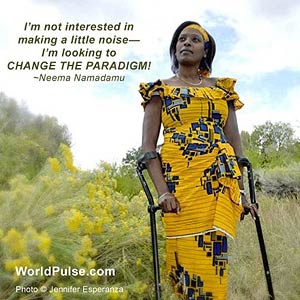 When World Pulse Correspondent Neema Namadamu comes to campus this week she'll be meeting with students from Agnès Peysson-Zeiss' Praxis III French course who are translating blog posts for the organization, having dinner with students from the 360° "To Protect the Health of the Public," sitting down with students from Political Science Associate Professor Carol Hager's senior seminar, spending time with faculty including professors Mary Osirim, Kalala Ngalamulume, and Alice Lesnick, and giving a public talk.
"Neema's visit is a wonderful example of the scholarly intersections taking place at Bryn Mawr and the opportunities a liberal arts college affords students to examine issues from so many angles," says Praxis Program Director Nell Anderson, who led the effort to bring Namadamu to campus.
Namadamu was born in a remote tribal region of Itombwe, Eastern Democratic Republic of Congo, a place she describes as "one of the worst places in the world to be a woman." Though struck by polio at the age of two, Namadamu went on to graduate from Congo's national university and to hold several government positions. She currently runs a media training center for women, getting educated women online and connected to the world and contributing their stories and solutions for change through World Pulse. In 2012, Namadamu visited the U.S. as part of "Voices of the Future," an 18-event U.S. speaking tour sponsored by World Pulse and addressed audiences at the Clinton Global Initiative, Women's Nobel Initiative, the U.S. State Department, and CNN, among others.
Namadamu's Bryn Mawr visit and the programming, courses, and scholarship taking place connected to it reflect the many ways the College and its students are engaging with global issues, says Anderson.
"For instance, I've been thinking more and more about ways to connect the Praxis program to global issues," says Anderson. "Students are still interested in working with local communities but they're also looking for ways to do good and have an impact on an even broader scale."
The seeds for Namadamu's visit were planted at last winter's Next Wave conference, where Anderson met Jensine Larsen, founder of World Pulse, and asked about ways the College might partner with the organization. At that same time, Anderson was working with Peysson-Zeiss, to try to identify Praxis opportunities for French students.
Anderson and Peysson-Zeiss worked with World Pulse and created a Praxis III course for this fall in which blog posts from women living in violence-torn areas of French-speaking Africa are translated into English, giving a global voice to a population that has been largely unheard. The course is being coordinated by Aba Daniels, a Graduate School of Social Work student from Ghana.
The relationship with World Pulse now established, Anderson found out about Namadamu at yet another gathering of women leaders on Bryn Mawr's campus – this summer's Women in Public Service Project Institute.
While taking part in the Institute, Anderson met Nisan Ahmado, who also works with World Pulse, and told her about the Praxis she and Presysson-Zeiss had developed. Ahmado knew Namadamu and passed her email on to Anderson suggesting Anderson reach out to her. Anderson did and it turned out that Namadamu had a trip to the states planned and was happy to visit Bryn Mawr.
"Once we had arranged for Namadamu to visit we were able to reach out to all these other people on campus and everyone came together and created this rich slate of events," Anderson says. "The great thing about a small liberal arts college is the ability to come together as a community of scholars and include so many people in something like this."