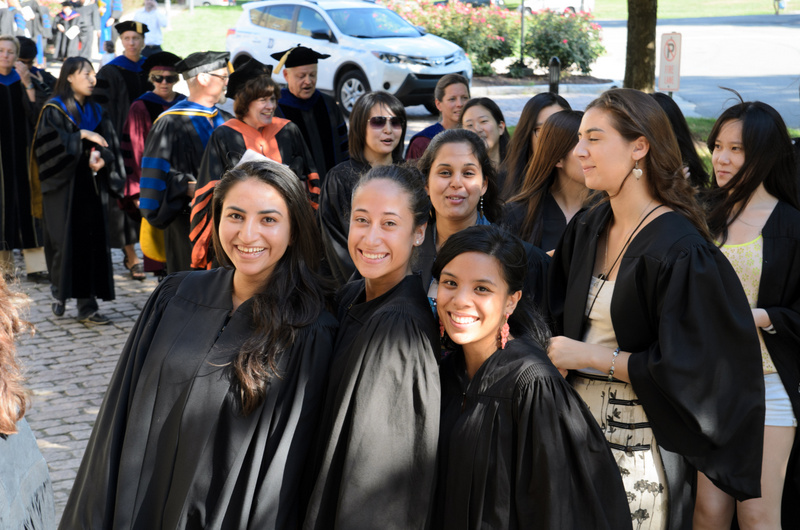 The 2013-14 academic year officially began Tuesday with the first day of classes and the fall Convocation ceremony, where speakers included Professor of Social Work Cynthia Bisman, Simona Clausnitzer '14, GSSWSR student Shawn Maxam, and Bryn Mawr Interim President Kim Cassidy.
In addition to welcoming new and returning students to campus, Cassidy used the occasion to talk about the value of a traditional liberal arts education at a time when many are calling for more narrowly focused and career-specific curricula.
"A liberal arts education—particularly when delivered by scholar/teachers—is the best preparation for any life," Cassidy told the students. "There are very few jobs, graduate schools, or places where our students might volunteer that wouldn't be thrilled to have someone who could closely read a document, critically reflect on its meaning, develop a cogent argument, and provide data to support it. Someone who could produce a piece of creative work, could ask interesting and important questions, and explain what they know to others."
Cassidy went on to talk about the value of attending a college where students take pride in a job well done and in making a difference in the world.
"What about students who believe that persistent effort often leads to excellence?  And who have discovered how to take the language of being an agent of change beyond words and ideas to tangible action?  What more could you want in an employee, volunteer, graduate, or professional student?"
In closing, Cassidy addressed the Class of 2014:
"Seniors, be sure to make the most of your final year in this special place. You're not going to get to do this again… so no regrets. Take the course that you always wanted to take (even if you don't think you will be good at it).  Take time to go into the city, or to have that extra cup of coffee with your friends after dinner….
You have made wonderful friends. When else in your whole life are you going to get to live with all of these amazing people in the same time and place?  If you do nothing else, enjoy this time with them….
You know how to think, communicate, question, research, learn, and work with others.  You have a lot to offer and wherever you wind up, you have the tools you need to be successful."
The first day of the 2013-14 academic year ended with a community picnic on Wyndham Green. For photos from the day, see the above slideshow or this online gallery.