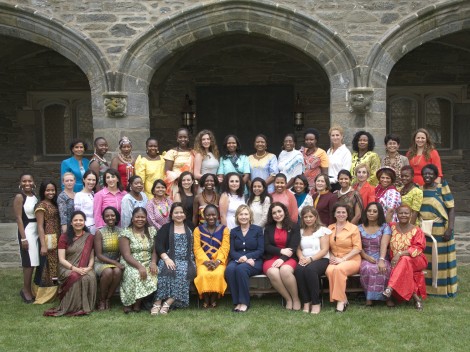 "Know that you are not leaving alone. You are all now traveling together. You are leaving here with a network," former U.S. Ambassador-at-Large for Global Women's Issues Melanne Verveer told the 43 delegates attending The Women in Public Service Project Institute 2013: Peacebuilding and Development in her closing remarks for the Institute last Friday.
Verveer, who is now the executive director of the Georgetown Institute for Women, Peace, and Security and former U.S. Ambassador to Bangladesh Mary Ann Peters, who is now the provost and dean of faculty at the Naval War College, shared the stage with Institute Director Jessica Berns to close out the Institute with a spirited discussion titled "Women Leading for Peace and Security: A Dialogue."
During the discussion, Peters joined Verveer in reminding the delegates to take advantage of the connections they had made during the Institute and she also advised the delegates on the need to develop a strategy for making change happen.
"You have all stepped up as agents for peace and agents for change," she told the delegates. "But to make change happen you need a strategy—a linking of ways and means with an eye to an end and to  risk; have one."
Over the course of the two-week Institute, the delegates met and heard from such dignitaries as Verveer, Peters, and former Secretary of State Hillary Rodham Clinton; engaged in workshops and panel discussions; visited Washington D.C. where they attended panels at the Wilson Center, took a tour of the Capitol and visited the home of the Sri Lanken ambassador to the U.S.; and perhaps most important, learned from and connected with each other.
"The speakers were all fantastic and I got a lot from each and every one of them but I think being around all the other delegates and realizing that you are not alone in the work you do was the most powerful takeaway for me," said Agnes Igoye of the Ugandan Ministry of Internal Affairs at the closing ceremony. "We're now a part of the Women in Public Service project network and can draw upon each other."
Ecuadorian Delegate Dagmara Mejia agreed in an Institute blog post.
"Hearing the stories of everyone, most of whom are much older than me, as I am one of the youngest participants, is very inspirational," Mejia told Institute blogger and McBride Scholar Adrienne Baugher. "It has made me focus much more and create a plan of what I want to do and to take advantage of all the tools I had, but didn't realize I had until I was here."
For a day-by-day recap of the Institute, read the additional posts by Baugher and the other Institute student bloggers and see the below slideshow or this online gallery for select photos from the Institute.