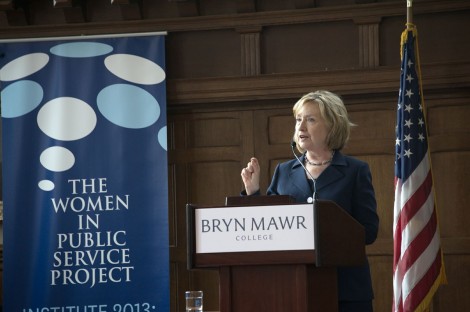 In delivering her keynote address for the Women in Public Service Project (WPSP) Institute 2013 in Thomas Great Hall on Tuesday July 9, former Secretary of State Hillary Rodham Clinton praised the delegates in attendance and urged them to continue to "step up and put themselves on the line."
"We need more leaders to stand against corruption. We need more leaders who say no to business as usual. We need more leaders who get up every single day and say 'what can I do this day to help the largest number of people live up to their God-given potential'," Clinton told the delegates and nearly 300 more audience members who packed the Hall.
Launched in 2011 by then U.S. Secretary of State Clinton as a partnership between the U.S. Department of State and five leading women's colleges (Barnard, Bryn Mawr, Mount Holyoke, Smith, and Wellesley), the WPSP is now housed at the Woodrow Wilson International Center for Scholars and has grown to include Scripps, Mills, and Mount St. Mary's Colleges; City University of New York; the University of Massachusetts system; and other partner institutions around the world. The goal of the Project is "50 by 50:" 50 percent of public service positions worldwide to be held by women in 2050.
Each summer, a participating college hosts a summer institute at which emerging women leaders gather. Bryn Mawr's institute has brought together 46 women from 35 countries with a focus on peacebuilding and development.
"The idea for this project arose from our observation that, even though we could meet virtually—through the internet, on Skype, and through other technological miracles—it's more important than ever that we actually engage in person-to-person contact; that we have a chance to look at each other and to listen to each other and to share our experiences," explained Clinton.
Clinton's sentiments were echoed by Delegate Vjosa Osmani, who is a member of Kosovo's parliament.
"The speakers have all been amazing, and in addition the delegates all have very powerful stories to tell and valuable insights," said Osmani. "I think we'll be able to learn as much from each other as we will from the speakers."
For Osmani, who had served as chief of staff for former Kosovo president Fatmir Sejdiu, this wasn't the first time meeting Clinton but it was still a thrill.
"For everyone in Kosovo, the Clintons are heroes," said Osmani. "They have contributed so much to our country's peace. Hillary in particular is a hero to the women of my country who want to have a career and a family and want to make a difference in the world. It was a great pleasure to hear her talk again."
In closing her speech, Clinton spoke about Bryn Mawr's legacy of scholarship and advocacy and urged the delegates to "take a page from that history": to make sure that in crafting and supporting policy they gathered the necessary research and evidence to support their positions.
"Bryn Mawr is Welsh for big hill. We still have a long way to go and a big hill to climb. If this was easy, it would have already been done," she told the crowd. "Let's keep our eye on the goal. Let's continue to collect the evidence, and encourage more women and girls to put themselves on the line for leadership. Let's do everything we can to get to '50 by 50′.
"In 2050, I will be 103 years old," she said, laughing. "And I intend to see that we've succeeded."