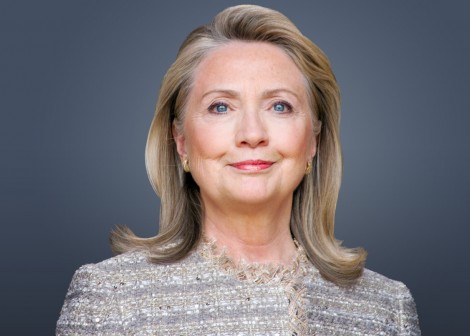 Former Secretary of State Hillary Rodham Clinton will address emerging women leaders from post-conflict countries as part of the two-week Women in Public Service Project Institute being held at and organized by Bryn Mawr College from July 7-19.
Clinton, who launched the Women in Public Service Project (WPSP) as Secretary of State in 2011, is scheduled to give her remarks on Tuesday, July 9, at Bryn Mawr's Thomas Great Hall. Her remarks are planned to take place at approximately 4 p.m. and will be streamed live via a link on the Bryn Mawr website.
The Institute is a two-week program for emerging women leaders from post-conflict countries organized by Bryn Mawr, and co-sponsored by the U.S. State Department, and the Woodrow Wilson International Center for Scholars as part of the WPSP. The Institute is intended to enhance leadership and conflict resolution skills and delegates' effectiveness in peacebuilding and development. Delegates will also meet with a number of women leaders in Philadelphia and with members of Congress during the course of the Institute.
The 51 delegates attending the Institute come from 38 nations in transition from regions throughout the world, including the Balkans, sub-Saharan Africa, the Middle East, South Asia, and Central and South America.
Many of the delegates have compelling personal stories that have led them to assume their current positions as agents for change. The delegates include:
Other confirmed speakers for the Institute in addition to Clinton include prominent Bryn Mawr alumnae such as Alice Rivlin, founding director of the Congressional Budget Office, and Angela Kane, U.N. High Representative for Disarmament Affairs. Other speakers include Melanne Verveer, the former U.S. Ambassador-at-Large for Global Women's Issues, Mary Ellen Iskenderian, president and CEO, Women's World Banking, and Rafif Jouejati, director of the non-profit organization FREE-Syria.
For more information, visit The Women in Public Service Institute at Bryn Mawr College: Peacebuilding and Development website.