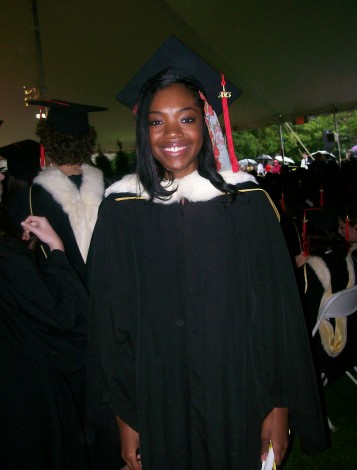 Sakina Abdus Shakur '13 has received a Fulbright Research Grant to travel to Greece, where she will study the works of Camus, Kierkegaard, Sartre, and others while conducting interviews with a diverse group of Athenian youth, ages 20-27. Shakur's project will explore the emotions of these young people in the context of Camus' idea of absurdism.
"The study of Camus will provide the framework for understanding the absurd, a term used to describe humanity's quest for reason and purpose, which is only met by the irrational and burdensome world. The physicality of pushing a boulder up a hill requires strength and will, which like life, can feel pointless if we are destined to always start again," wrote Shakur in her Fulbright application.
According to Shakur, the weight of the boulder on the shoulders of the Greek youth is especially heavy, as they are juggling the dependency of childhood, and the freedoms and burdens of adulthood. This transitional period in their lives coupled with Greece's financial crisis leaves them with conflicting emotions of hope and despair towards their futures.
"Imagine how it would feel to graduate from Bryn Mawr, and truly not have any options, and everyone you know who is a recent graduate is also not working. And this has been getting worse and worse for the past four years, with no clear end in sight. What do you do? I plan to explore this beyond the statistics and crisis coverage," says Shakur.
After conducting the interviews, Shakur will be curating a multimedia website to chronicle how Athenian youth are feeling in the climate of the crisis.
"My intention with the website is to create a more realistic perception of human struggle that is not a sensationalized tragedy and also not unrealistically optimistic. It will serve as an ethos of the myths that the Greek youth prescribe to in order to keep life worth living during the flux of hope and despair in the climate of the financial crisis," says Shakur.
Upon returning from her Fulbright year, Shakur's future is wide open. "I don't quite believe in plans, especially not after something like a Fulbright. I am incredibly honored for what I will become a part of and will see what opportunities arise and who I will become."