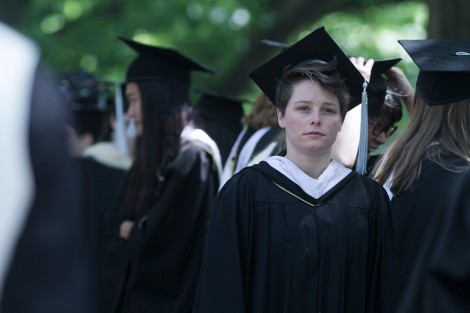 Bryn Mawr's Class of 2013 is set to make its mark on the world. The 326 undergraduate members of the class and the graduating members of Bryn Mawr's Graduate School of Arts and Sciences and Graduate School of Social Work and Social Research will receive their degrees at 2 p.m. on Saturday, May 18.
Meenakshi Gopinath, president of India's Lady Shri Ram College and an advocate for women's education and empowerment and peace in the region, will give Bryn Mawr's Commencement address.
For complete details and information about the weekend's events (including a link to a live video stream), go to the convocation and commencement homepage.
Among Bryn Mawr's Class of 2013 is Kristina Kronauer, a pre-veterinary Russian major with a biology minor. Two weeks after graduation, Kronauer is moving to Penza, Russia, which is a region 400 miles southeast of Moscow, to work on a large dairy farm for a full year before attending veterinary school for food-animal medicine.
With a little help from Bryn Mawr, Kronauer has been able to forge a path all her own.
Kronauer came to Bryn Mawr planning to be a bio major, toyed with the idea of a double major, but eventually settled on her current degree.
In 2011, she received an Alumnae Regional Scholarship and was able to work with a veterinarian at the Leningrad Zoo in St. Petersburg while studying Russian at the Herzen Institute through the American Council of Teachers of Russian. The following summer, she shadowed large-animal veterinarians and worked at small family-run dairy farms in rural New Hampshire and Vermont. During that summer, she also reached out to a Wisconsin farmer she'd learned was running a dairy farm in Russia and started the conversations that led to her current opportunity.
"Even though I haven't gone to school for dairy science or dairy management they liked the combination of my expertise and experiences and offered me a job," says Kronauer. "I could have gone to a big university that has more of a pre-veterinary program but I knew I wanted a liberal arts education where I could pursue all my interests, including music, athletics, and academics outside the sciences. Bryn Mawr has been instrumental in providing me with the tools I need to excel, from the Alumnae Regional Scholarship, which financed my summer internships, to supporting independent studies at the University of Pennsylvania in dairy nutrition and herd health."

Do you have postgraduation plans that we missed?
Share them on the BMC Facebook page
Here's a glimpse of what some other members of the Class of 2013 are up to:
West Michigan native and Linguistics and Languages Major Elizabeth Wiseman will also be headed overseas: she's moving to Tokyo for the corporate staff trainee program of a Japanese pharmaceutical company. While she doesn't yet know where she'll be assigned, History of Art Major Julia Stuart of Grand Rapids, Mich., will be traveling as a Peace Corps volunteer. In July, Chemistry Major Ellen Butler will begin a year-and-a-half mission in the Marshall Islands for The Church of Jesus Christ of Latter-day Saints.
Continuing their academic studies are Biology Major Sara Fielder, who is enrolled in a genetics and molecular biology program at Emory University. Psychology Major Sarajane Rodgers is headed to the University of Limerick in Ireland to get her master's degree in psychology. Math Major Camilla Monotonen is returning home to purse a computer science degree at the University of Helsinki. Economics Major Yashaswini Singh will be earning a master of public administration degree in development practice from Columbia's School of International and Public Affairs. Chemistry Major Maisha Rahman will return to her native New York to start an organic chemistry Ph.D. program at Stony Brook University. San Diego native and Psychology Major Lara Belasco is staying in the Philly area and starting the master's degree program in occupational therapy at Thomas Jefferson University in the fall. Joining her in the city will be Physics Major Leigh Schaefer, who is going to the University of Pennsylvania for a Ph.D. in physics. Jessica Watkins has an even shorter trip to take. A biology major with minors in both English and psychology, Watkins has received a full-tuition scholarship to attend Villanova Law School. Physics and Astronomy (Haverford) Double Major Tonima Tasnim Ananna is going to pursue a Ph.D. in physics from Yale. A native of Bangladesh, Ananna had an internship at NASA's Space Telescope Science Institute in the summer of 2011, and became the first Bangladeshi to join the European Organization for Nuclear Research's official summer student program in 2012. Growth and Structure of Cities Major Ning Pei is going to Harvard to pursue a master's degree in urban planning. Math Major Evelyn Pan is enrolled in Cornell's applied statistics program. Geology Major Alliya Akhtar will be pursuing a Ph.D. in geoscience at Princeton University.
The world of business and finance awaits several Bryn Mawr graduates including Math Major/Econ Minor Wendy Huang, who will be an analyst in the asset management division of Hong Kong's UCF Group. Economics and Math Double Major Yolanda Yue Shao will enter Bank of America's quantitative management associate program. Physics Major Jessica Lee will be working at M&T Bank as part of their management development program. Shunning Yan, who majored in economics at Haverford, will travel to San Francisco to join the consulting firm Pantheon Group. Political Science Major Susan Gao will travel to South Africa for a year-long internship with the management consulting company Frontier Advisory. Economics Major/Math Minor Hao Jiang will travel up the East Coast to Boston, where she'll be working at Ernst & Young's insurance and actuarial advisory services. Anh Duong Nguyen, who majored in Growth and Structure of Cities and French Studies, came to Bryn Mawr from Vietnam and Math Major/Econ Minor Bianca Boranda came from Romania, but they won't have to travel far at all after graduation—they're both going to work as analysts for Chatham Financial in Kennett Square, Pa.
Mawrters headed to Washington, D.C., include Oregon native and Anthropology Major Maiya Zwerling, who has accepted a job at the Friends Committee on National Legislation in the Middle East policy department and Sociology Major Jomaira Salas, who will serve as a program coordinator for the Posse Foundation. Moscow native Yulia Belyakova was an Economics and French double major at Bryn Mawr and will be working for the economic consulting firm the Analysis Group. English Major and History of Art Minor Shawn Orenstein will be working at the Smithsonian American Art Museum.
Class of 2013 members who will be involved in medical research include Psychology Major (Haverford) Hannah Ryles, who landed a two-year research technician position at the Children's Hospital of Philadelphia, and Chemistry Major Yichun Fu, who will be doing research at Mt. Sinai Hospital's Tisch Cancer Institute.
Several students will be working in education or at nonprofits dedicated to helping young people. Biology Major Christine Wheaton is returning to her home state of California, where she'll be an instructor at High Trails, an outdoor education school in Big Bear. English Major Laura Reeve was able to turn a summertime position into a full-time opportunity. With dean's funding, Reeve interned for "Girls Rock Philly" between her junior and senior years. This fall, she'll be working there full time as a program assistant. Psychology Majors Ariele Martinez and Josephine Nyame are both headed to the Pittsburgh Urban Leadership Service Experience. Sociology Major and Education Minor Ambrosia Johnson is going to work for Uncommon Schools. English Major Sarah Shaw will be teaching at a public school in the Newark, N.J., area through Teach for America.
Other students entering the nonprofit sector include Erika Nunez. Nunez, who studied Fine Arts at Haverford, will be the program and marketing manager at Raices Culturales Latinoamericanas in Philadelphia. Growth and Structure of Cities Major Jacinda Tran will be at Project Home as part of the Philly Fellows program.
Chemistry Major Ariel Furman will only have to travel a bit down Interstate 95 as she moves to Wilmington, Del., to work as a lab technician at Dupont.
Classical and Near Eastern Archaeology Major Amelia Eichengreen will be interning at the ancient art collection and the numismatics collection at the Yale University Art Gallery.
Psychology and Sociology Double Major Rachel Shen is relocating to Scottsdale, Ariz., to be an associate account executive trainee with Yelp.
Anassa Kata to all!