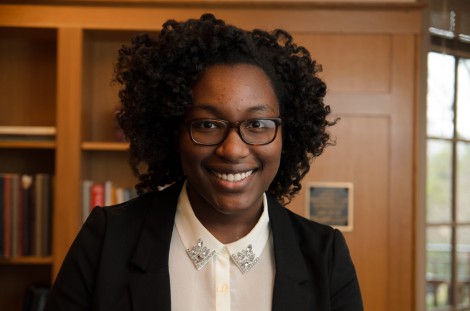 While many children were relaxing during their summer vacation, Keshia Koech '14 spent the summer between third and fourth grade aiding children with disabilities. That summer, Koech attended a summer program at Boston College, which encouraged youth participation in community service. The class visited the Boston College Campus School, a school for students with disabilities. This was Koech's first time interacting with children her age with special needs.
"Some students were non-verbal, some screamed all of the time, and some students had no control over their bodies," she says. "It was a difficult, but also enriching, experience. I learned from that young age how important it is to be understanding of differences, whether it is a difference of ability or a difference of ideology. That initial exposure to community service has had a definite impact on the person I am today."
This summer, Koech will again be helping individuals with disabilities through the Davis Project for Peace program.
Koech will be using a $10,000 Davis Project for Peace Grant to pilot an income-generating partnership between The Autism Society of Kenya (ASK) and Honey Care Africa, a social enterprise that promotes sustainable community-based beekeeping in eastern Africa. She is also working with support groups in at least two Kenyan counties with resources from ASK. These support groups are comprised of families and caregivers of individuals with developmental disorders (DD).
"By fostering a partnership between Honey Care and the support groups, the groups will have a sustainable source of income specifically to fund resources for individuals with DD and education and training opportunities for parents to better understand and support their loved ones," says Koech.
Koech's interest in helping those with special needs has remained consistent since that summer 14 years ago. She has worked as a teacher's aid in a summer program provided by the Boston public school system for students with Autism Spectrum Disorders. She also worked with Recording for the Blind and the Dyslexic.  However it was during a high school study abroad to China that Koech started to think about global awareness of DD and how different countries cope with individuals with DD.
"Understanding of the different disorders is extremely limited and often communities view individuals associated with any disability as being cursed or a source of shame," says Koech.  "The disabled are often cast out of the community. The lack of awareness and resources available for individuals with any kind of disability is overwhelming in many countries and it is clear that this is a foremost human rights issue."
Koech developed her project while working on a final paper for her Autism Spectrum Disorders class at Bryn Mawr, which focused on cross-cultural perspectives of the disorder. It was during this research that she began looking into many different countries but felt a personal tie to Kenya, where her father is from. She reached out and worked with the ASK founded Felicity Ngungu to decide what was most important and relevant to the families she would be working with.
"Being able to communicate with the ASK was a huge factor for zeroing in on Kenya, and having communications back and forth with Felicity was amazing. I feel this foundation of collaboration is integral to the success and sustainability of the project," Koech says.
According to Koech, the hives will last approximately 10 years, with a yearly profit estimated at $180-250, about half of a farmer's yearly income. Twenty percent of the profit from each hive will be saved for the future acquisition of more hives, other sustainable income-generating opportunities, and the addition of more support groups.
To ensure the sustainability of her project after Keoch's departure, these support groups will be overseen by the Department of Gender, Children, and Social Development.
"Thinking long term, I see possibility and I am excited about the idea of being able to expand my Davis project to different countries all over the world," Koech says.
For more information on the details of "Making Peace Accessible in Kenya," see Koech's proposal on the Davis Project website.