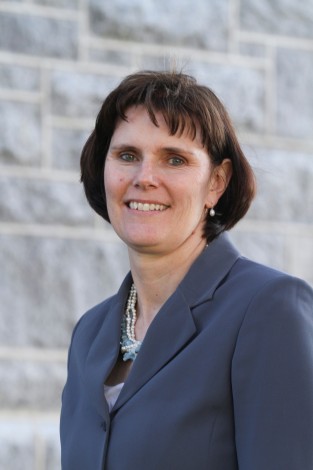 The Board of Trustees of Bryn Mawr College is delighted to announce today that the College's Provost, Dr. Kimberly Wright Cassidy, will become Interim President of Bryn Mawr College on July 1, 2013.
A distinguished scholar and respected leader, Dr. Cassidy was first elected to serve as Provost in 2007 and was reappointed for an additional five-year term in January 2011. During her tenure as Provost, Dr. Cassidy has been instrumental in leading a number of important initiatives, including facilitating the faculty's curricular renewal process, the development of the College's new interdisciplinary 360° courses, the introduction of new majors reflecting students' interests, and the advancement of digital initiatives within the classroom.  She has also served on numerous committees steering academic and faculty life on campus and has been an active supporter of Bryn Mawr's athletic and cultural programs.
Board of Trustees Chair Arlene Joy Gibson said, "During her already impressive career, Kim has distinguished herself as an effective leader and a positive agent of change.  She has become an integral part of the fabric of our community, known for her sparkling intelligence, warm sense of humor, and natural spirit of collaboration.  As a respected advocate for our faculty, an award-winning professor and an extensively-published researcher, Kim embodies the core tenets of Bryn Mawr – scholarship, academic excellence and service to the community.  These attributes, coupled with her unique understanding of and role in Bryn Mawr's culture, make her the ideal person to lead the College and continue to advance its goals and commitment to higher-learning.  We are extremely pleased that she has accepted this role – and we are confident this view is shared by the broader Bryn Mawr community."
Dr. Cassidy has served on the Bryn Mawr faculty since 1993. Prior to her appointment to Provost, she served as Chair of Bryn Mawr's Department of Psychology from 2004-2007. She earned her master's degree in psychology and Ph.D. in psychology from the University of Pennsylvania and earned a bachelor's degree with distinction in psychology from Swarthmore College.
"I am honored to take on this important role and to serve Bryn Mawr in a new capacity at a very exciting time in our College's history," Dr. Cassidy said. "I look forward to working closely with faculty, staff, graduate and undergraduate students, our Tri-Co partners and our entire community as we continue to build upon Bryn Mawr's foundation as a leading academic institution and a vibrant force in higher education today."
Dr. Cassidy will remain Interim President while the Board of Trustees undertakes a collaborative process of identifying permanent leadership for the College. The Board expects to incorporate significant input from faculty, staff, administrators, students, and other key members of the Bryn Mawr community.  The process for filling the Interim Provost role will begin promptly and the College expects to make an announcement as soon as practicable.
Gibson noted, "We are focused on identifying the right individual to lead Bryn Mawr on its path forward. We will ensure that we are careful and inclusive, and incorporate and reflect the unique needs and perspectives of the Bryn Mawr community in our process."