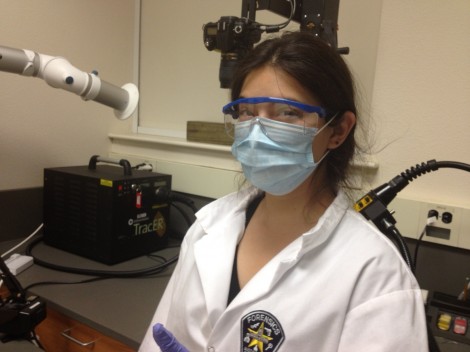 For devoted CSI fan Sydney Espinosa '14, an internship at the crime scene unit of the Forensic Science Division of the Austin Police Department in Austin, TX, was a grisly fairytale come true.
But, she reports, "Living out the reality was infinitely more glamorous and interesting than anything I watched on TV."
In the field and in the lab, Espinosa learned the ins and outs of processing crime scenes: proper evidence collection procedures, the chemical processes used to collect fingerprints, techniques for collecting DNA evidence without contaminating the blood.
Her lab experiences gave her the opportunity to see, in action, a concept from her freshman biology class at Bryn Mawr: how genetic analyzers use capillary electrophoresis to map DNA. Plus, she learned how to dust fingerprints using a whole range of lab tricks – like ninhydrin, "sticky side" powder, fume hood and hot glue, RAM chemical wash, and alternative light sources.
But most afternoons found her riding out "into the Texas summer heat with a technician … [to] see what new crimes the day brought." On one occasion, the crime of the day was the burglary of a Best Buy, where thieves had broken in through the roof; for Espinosa and her tech, that required collecting the evidence by scrambling up a fire-truck ladder to swab for DNA.
On another, the team was directed to an apartment complex where neighbors were reporting a suspicious smell. In a scene familiar to any viewer of prime-time crime dramas, Espinosa assisted in the processing of a decomposing body. As she describes it, the scene they encountered unfolded like the opening sequence in a TV crime show, with "crime scene taped tied languidly about the front door, a lonely cat meowing near the stairs, insects buzzing furiously about the door frame, and a uniformed officer lifting the tape to let us by." She adds, "Something I will never forget: the smell. It was exactly as one would expect, but at the same time so much worse."
A psychology major, Espinosa is aiming for a career with the FBI. She credits her internship, funded through the Bryn Mawr Alumni Regional Scholarship Fund, with building the skill set she'll need as a field agent. "Knowing how to process crime scenes and collect various kinds of evidence is valuable information for my future career," she concludes.
Espinosa's internship was funded through Bryn Mawr's Alumnae Regional Scholarship Fund. These and similar opportunities are available through the Dean's Office. Visit this page to learn more.