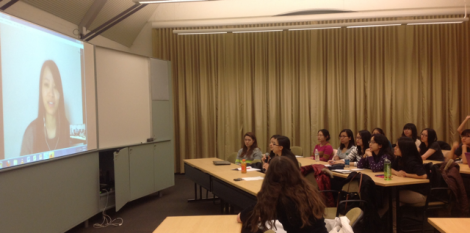 In recent weeks, the College has hosted several webinars and on-campus events intended to connect students with international alumnae. As part of a new international initiative called the Bryn Mawr at Work Series: Global Alumnae Career Networking, students have the opportunity to interact with alumnae around the world via Skype webinars and at in-person events on campus. The series is focused on providing students an opportunity to further network and learn about careers outside of the United States. The events are sponsored by various campus offices, including the Office of the President and the C.F.O., and organized with the help of students from the Owl Investment Group (OIG).
The first event, "Exploring Careers in China," took place March 28 and featured a discussion with Danny Tang '07, an investment professional with CDB Capital in Shanghai, China. Tang spoke to the 25 students in attendance about the differences between working in the United States and China, the opportunities available in China, as well as the culture and politics of Chinese firms.
The second event is happening today (April 4) and is focused on careers in Latin America and features a Skype interview with Edith V. Avilés de Kostes '88. Kostes is a managing director in the Financial Sponsors Coverage Group of BNP Paribas' Corporate & Investment Banking Group, the fifth largest company in the banking industry worldwide.
The final event for this year is scheduled to take place on Thursday, April 18, and will look at careers in Indonesia. The speaker, time, and location will be updated when available on the Owl Investment Group website. Fall events are currently being planned and information about those will also be on the website when available.
These events are organized to not entirely focus on specific career opportunities and are instead intended to offer a general understanding of what it is like for Bryn Mawr students to pursue a career in other countries.
For more information on these events, and the alumnae participating, please visit the website.