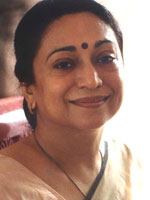 Meenakshi Gopinath, president of India's Lady Shri Ram College and an advocate for women's education and empowerment and peace in the region, will give Bryn Mawr's Commencement address on Saturday, May 18.
A political scientist with expertise in Gandhian thought, security, gender, peacebuilding, and Indian politics, Gopinath was the first woman to serve on the National Security Advisory Board of India (2004 to 2006) where she sought to mainstream gender and human security concerns.
"As the leader of the premier women's college in India," says President Jane McAuliffe, "Dr. Meenakshi Gopinath has inspired countless women in that country to achieve their highest goals. She has also been at the forefront of efforts to bring peace to a region in which conflict and the subjugation of women has all too often been the status quo. As our students gather to begin their journey beyond Bryn Mawr, I expect Dr. Gopinath's words to have particular resonance and meaning."
Gopinath is currently involved in several peace initiatives in Kashmir and between India and Pakistan, including the Neemrana Peace Initiative and the Pakistan India Peoples' Forum for Peace and Democracy.
Gopinath is also the founder and honorary director of Women in Security Conflict Management and Peace (WISCOMP), an initiative begun in 1999 to promote the leadership of South Asian women in the areas of international politics, peace, security and diplomacy. WISCOMP provides a unique space for collaborative action, research, and peace building networks in the South Asian region and works at the interface of theory and practice, academia and the NGO sector.
In pursuance of her commitment to develop programs for educating for peace, Gopinath is often called upon to develop curricula and courses of study in this growing and dynamic field. She is responsible for the introduction of Conflict Resolution Studies at the University of Delhi, and set up the Centre for Peacebuilding at Lady Shri Ram College—the first of its kind at the undergraduate level in India. She also lectures extensively on these topics internationally and has authored several books focused on these issues.
Gopinath has been president of Lady Shri Ram College since 1988. Lady Shri Ram is considered among the finest institutions of higher learning in India and this year is celebrating "50 years of leadership with social responsibility."
In recognition of her contribution to the field of women's education and empowerment, Gopinath has received several awards, including the Padma Shri Award (one of the highest honors awarded to citizens by the Indian government). Other awards include the Indira Priyadarshini Gandhi Award and the Rajiv Gandhi Award for Excellence in Education.
Gopinath's other interests include classical art forms, Buddhist philosophy, and theater in education. Gopinath remains an active participant in national and international civil society initiatives on fostering coexistence between communities, women's engagement in building peace, and sustained dialogue processes. Her work in the area of enhancing excellence and equity in education spans over three decades.