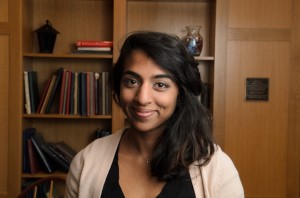 Samyuktha Natarajan '15 was awarded a 2013 Newman Civic Fellows Award by Campus Compact. This award honors inspiring college student leaders who have demonstrated their investment in finding solutions to the challenges that face our communities throughout the country.
Natarajan is a student leader active in issues of public education and environmental justice. During her first two years of college, she has developed and implemented two projects at Parkway West High School, in West Philadelphia.
The first focused on engaging and empowering high school students to consider issues of food access, nutrition and community development in their neighborhoods, and included the creation of a community garden. The second focused on engaging high school English Language Learners in exploring issues of identity and culture and developing skills in self-expression through writing.
Samyuktha has been instrumental in the efforts of the College to build a partnership with Parkway West High School; she is an extraordinary organizer and systems-thinker and has been able to sustain both projects beyond her "field placements" by inspiring and collaborating with other college students, high school students, teachers, and community members. Samyuktha has been invited to serve as a student representative on the Praxis Steering Committee.
Parkway West High School is one of nine Philadelphia schools to take part in the Senior Project Initiative, which partners high schools with area colleges and universities to provide college-student mentors to high school seniors as they complete a rigorous yearlong research project. Bryn Mawr and Haverford students have worked as mentors through the Senior Project Initiative as well as in a variety of other capacities at the school.