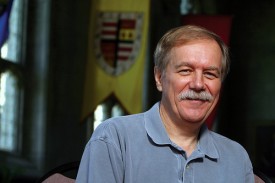 In the course "Democracy and Development," Professors Michael Rock (Economics) and Marc Ross (Political Science) join students in examining democracy's "third wave," which occurred from 1974 to 1990 and during which the number of democracies in the world grew from 39 to 117. The aim of the course is to get students to examine what we know and don't know about the relationship between democracy and development in history and among today's developing economies.
The course grew out of conversations between Rock and Ross, who, although from different academic disciplines, shared similar research interests on the topic. In fact, Rock has been working on a book on democracy and development in East Asia for some time and recently published research findings in the Journal of East Asian Studies that he'll use in both his book and future offerings of the course.
"This is what being a part of a community of scholars is all about," says Rock. "There's collaboration, there's teaching, and ultimately there's the creation of new scholarship."
In his latest research, Rock formally tests the hypothesis that the shift from developmental autocracy to majoritarian democracy in many East Asian countries since the mid-1980s has not slowed economic growth for those nations.
"There was a fear by some that this shift to democracy in these countries would lead to declines in economic growth," explains Rock. "Others, like Ben Reilly — whose book Democracy and Diversity: Political Engineering in the Asia Pacific we'd been using in our course for several years — argued that political elites in democratizing East Asia opted for a set of majoritarian democratic institutions that were growth-enhancing."
Rock's research confirmed  his hypothesis and Reilly's earlier research  and demonstrated that the region's democratic developmental states have contributed as much to growth at the developmentally oriented authoritarian regimes that ushered in East Asia's economic miracles of the early 1980s.
"The key to growth appears to be the adoption of majoritarian democratic institutions," says Rock. "There's still some debate among political scientists and economists in terms of whether proportional or majoritarian structures are best for economic growth but most of the literature is pushing in the direction of majoritarian and our research indicates that as well,"
Rock argues that majoritarian institutions led to the emergence of a small number of political parties that competed for office by offering electorates clear economic policy choices. In each instance voters have responded by electing those offering the best set of growth policies.
Rock has subsequently extended his work in this area by developing a case study of democratization in Indonesia and testing the hypothesis that the shift to majoritarian democratic institutions there has also been growth-enhancing. As in the larger study, he finds solid support for his hypothesis.
More recently, he and Ross have extended hypothesis testing to sub-Saharan Africa where they find that the shift from predatory autocracies to majoritarian democracies has not had any impact on growth.  They presented this finding at the December 2012 African Studies Association Meeting in Philadelphia.
"We were a bit surprised by this finding and are exploring the possibility that path dependence (or the history of the past) may explain the differences in outcomes," says Rock. "It just may well be that the predatory practices of Africa's autocracies have carried over into their new and fragile democracies while the developmental practices of East Asia's autocracies have carried over into that region's democracies."
"Democracy and Development" will be offered again in the Spring  2014 semester. For more information on this course, go to the Undergraduate Catalog. Visit the departmental web pages to find out more about additional courses offered by the Economics and Political Science departments.
Comments Off

on Bryn Mawr Economist Publishes Research on Democracy and Economic Development in Connection With Course