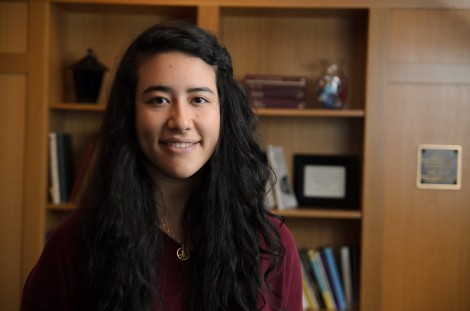 When students united to form the Bryn Mawr College Self-Government Association (SGA) in 1892, the College became the first institution of higher education in the United States to give students responsibility not only for enforcing rules of behavior upon themselves, but also for deciding what those rules should be. It was considered a radical experiment at the time, and is still unusual.
Each February, the SGA executive board is chosen by their peers to act as liaisons between the student body and the College administration. This year, Natalie Kato '14 was elected as 2013-14 SGA president, and we wanted to tell you a little more about her.
1. Hometown?
Los Angeles, CA
2. Major?
Double major in mathematics and computer science
3. What clubs and activities are you involved with?
Currently, I am SGA President, SGA Webmistress, a Peer Mentor, the Peer Mentoring Services Webmistress, and a member of the Asian Student Association and Mujeres.
4. Why did you decide to come to Bryn Mawr?
I decided to come to Bryn Mawr because of the small liberal arts aspect and the close proximity to the city. When entering college, I was not sure of the subjects I wanted to study or major in, so being able to attend a college where I could get many different experiences was one of my top priorities. The Tri-College consortium also really appealed to me, and I wanted to be able to use those resources.
5. What is your favorite ice cream flavor?
My favorite ice cream flavor is chocolate! Anything flavored chocolate!
6. What do you like to do in your spare time?
In my spare time, I enjoy hanging out with my friends, going into Philly, and sleeping!
7. Name five material objects that you couldn't live without?
My computer, phone, agenda, glasses, and watch.
8. What is your favorite Bryn Mawr memory so far?
My favorite memory at Bryn Mawr was when I was a first year student. There was a day in which it went from being winter to spring and everyone was out on the green, enjoying the weather. There is a very distinct day where the seasons transition and the atmosphere at Bryn Mawr changes—it is a really exciting time!
9. If you could spend the afternoon with anyone, dead or alive, who would you choose?
I would want to spend the afternoon with Anderson Cooper. I think that he is a fascinating person who has had a very worldly life, so I am curious to hear more about his perspectives and experiences.
10. Who or what inspires you?
The environment I am in inspires me. That may sound strange, but what I mean is that being around people who are passionate inspires me to be passionate about my own initiatives. Because my environment is motivated, I build on that energy and it inspires me to be active. I think my parents have also inspired me to be very dedicated and to pursue my passions. I have learned a lot from their experiences and the knowledge they share with me.
11. What was your favorite course at Bryn Mawr so far?
My favorite course was my Emily Balch Seminar titled, "Bookmarks," taught by Professor Jamie Taylor.
12. What are your goals as SGA president?
Some of my goals as SGA president are to increase transparency and communication between the student body, administration, and faculty; to prioritize the goals of students; address accountability; and create a comfortable environment for everyone to be productive and open to different ideas.
13. When you were little, what did you want to be when you grew up?
When I was younger, I always wanted to be involved with animation at Pixar or Disney. I loved how animated movies were created and the happiness people get from watching them.
14. Where do you see yourself after graduation?
After graduation, I see myself working for a few years and then going back to school to obtain my MBA. I have been looking into jobs related to marketing and advertisement and hope to find more experiences that will help me narrow down the areas I am passionate about.
15. What one word best describes you?
Thoughtful.
16. If you were granted three wishes, what would you ask for?
I would wish for a cure for cancer, more women to be involved in the STEM (science, technology, engineering, and mathematics) fields, and that I was not lactose intolerant so I could eat chocolate ice cream!
17. Where is your favorite place in the world?
My favorite place in the world is the blue couch in my living room. It has a calm feeling that is very relaxing to me.
18. What are you afraid of?
Spiders! I honestly cringe at the thought of spiders.
19. Who are you heroes/heroines?
My hero is my dad and my heroine is my mom. They have taught me everything about everything — who I can be, what I have the potential to do, and they always have the right things to say.  They are both just great people who I look up to!
20. In your opinion, what is the best thing about Bryn Mawr?
The best thing about Bryn Mawr is that community; the ideas that are fostered from the students, faculty, staff, and administration have a common goal of being innovative, collaborative, and genuine in striving for progress. I do not think I would be the person I am today without going to Bryn Mawr and meeting such influential people that have greatly impacted my life.
Comments Off

on Meet Your New SGA President: Natalie Kato '14