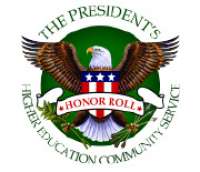 The Corporation of National and Community Service has honored Bryn Mawr College with a slot on the President's Higher Education Community Service Honor Roll with Distinction. This is the fifth year Bryn Mawr has been honored with this award.
The Community Service Honor Roll, launched in 2006, is the highest federal recognition a school can achieve for its commitment to service learning and civic engagement. The Honor Roll highlights higher education's part in creating meaningful contributions to the community and establishing a lifelong path to civic engagement for students.
"We are grateful for the combined efforts of the faculty, students, staff, and community partners who make it possible for us to earn this recognition," Ellie Esmond, co-director of the Civic Engagement Office and director of service and activism, says.  "Bryn Mawr College values civic engagement as an important part of campus life and an integral part of our students' education."
The award is based on a number of factors, including scope and innovation of service projects, percentage of student participation in service activities, incentives for service, and the extent to which the school offers academic service-learning courses. In addition, the impact of the service performed by the institution's faculty, staff, and students is weighed significantly when the applications are reviewed.
"Receiving this award serves to both celebrate our shared commitment to social change and, by validating our efforts, it encourages us to keep moving forward, striving to create meaningful programs that cultivate deep relationships and inspire change and growth to all involved," Esmond says.
Bryn Mawr's honor roll application highlighted three campus-community partnerships and three programs sponsored by the Civic Engagement Office. These projects and programs were selected by Civic Engagement Office staff as exemplary both in the measurable amount of service performed by the participants and by the impact they had on the communities served.
The partnerships and programs highlighted are:
Parkway West High School/Bryn Mawr College Partnership: The mission of the Bryn Mawr/Parkway West partnership is to build and sustain a reciprocal, intentional, and multi-layered partnership between the College and the high school. The partnership is premised on the conviction that students, teachers, and staff from both schools have valuable experiences, skills, and resources to share with one another that will enhance learning, teaching, and community engagement for all involved.
Arts Education Program at Overbrook Elementary School: The Bryn Mawr Art Club provides weekly arts education to children within this school. Like many public schools in Philadelphia, Overbrook does not have an arts teacher.
Belmont Charter School Mentoring Program: An after school program where Bryn Mawr students mentor Belmont students in grades second through eighth once a week.
The Gotwals After School Program (GASP): Bryn Mawr students volunteer at Gotwals Elementary School in Norristown, working with 1st and 2nd graders by providing homework help and developing students' language arts and reading comprehension skills.
The Volunteer Income Tax Assistance (VITA) Program: Done in partnership with the Community Action Development Commission of Montgomery County, the VITA Program trains Bryn Mawr students to be certified IRS tax preparers who assist the organization in providing free tax services to Norristown residents.
LIFT: This nonprofit organization lets volunteers work one-on-one with clients living under the poverty line to find jobs, secure safe and stable housing, manage public benefits and tax credits, and obtain quality referrals for services like childcare and healthcare.
Last year, 1,030 Bryn Mawr students participated in academic and non-academic community-service programs. Six hundred and ninety nine students engaged in at least 20 hours of community service per academic term, and the total number of all community service hours engaged by Bryn Mawr students was 125,799 (including graduate students).
The Honor Roll is a program of the Corporation for National and Community Service, in collaboration with the Department of Education, the Department of Housing and Urban Development, Campus Compact, and the American Council of Education.
Comments Off

on Bryn Mawr Named to President's Higher Education Community Service Honor Roll with Distinction For Fifth Year