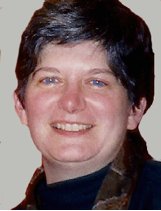 UPDATE: A memorial service for Dean Karen Tidmarsh will be held the afternoon of Saturday, Sept. 28, 2013 in Thomas Great Hall. More details will be added when available.

Karen MacAusland Tidmarsh, beloved long-time Dean of the College at Bryn Mawr College, died at age 63 in her Haverford home on March 2, 2013, of end stage carcinoid syndrome.
Born May 19, 1949, she devoted more than half of her life to Bryn Mawr College, from which she graduated in 1971. After a few years away, during which she earned a Ph.D. in English from the University of Virginia and taught at the Germantown and Shipley Schools, she returned to Bryn Mawr in 1979 as an administrator and later a member of the English faculty. She was Dean of the College for 20 years, 1990-2010.
"Thoughtful, articulate, judicious, even-tempered, warm—as Dean, Karen embodied what is best in the College," said Rick Hamilton, Paul Shorey Professor Emeritus of Greek. "In faculty meetings, her presentations were exemplary – intelligent, well-organized, substantial and well-expressed. And her extempore remarks and responses were equally so. She thought and spoke in paragraphs, and many of the faculty came to the fall convocations primarily to hear Karen's witty and original welcomes to the incoming students."
Added Ruth Mayden, former Dean of the Bryn Mawr Graduate School of Social Work and Social Research: "Karen's love for students and her joy in working with them were apparent in the lively stories and anecdotes she told at fall and spring convocations. Karen welcomed opportunities to collaborate with the School of Social Work. Together we created a program for undergraduates to volunteer in stressed communities throughout Philadelphia and Delaware County. I trusted Karen completely.  She was honest, caring and genuine."
"Karen Tidmarsh—my classmate, then roommate and lifelong dearest friend—was synonymous with Bryn Mawr College," said Judy Fox, Class of '71. "She taught me what courses never did: how to write an essay (always conclude with the introduction of a new thought); the power of understatement; and the effectiveness of direct language. She infused my life, and my husband's and daughter's, with insight and humor, and now our lives are filled with profound loss."
In 2006, the College and Alumnae Association presented Dean Tidmarsh with the Helen Taft Manning Award for extraordinary service.
"Karen's accomplishments are many and large," said Mary Berg Hollinshead '69, former president of the Bryn Mawr Alumnae Association, on that occasion. "They have been achieved in daily diplomacy, hard work and humor, in the acts and decisions of an empathetic and ethical person. It is fascinating to see how many students and staff, past and present, believe she belongs to them. They are right, she does. And all of us belong to her."
"I taught Karen French when she was a freshman and, apparently, terrified her," said Catherine LaFarge, Professor Emeritus of French. "She entertained her classmates with wicked imitations of me. Decades later when she was Dean of the College and I was Dean of the Graduate School of Arts and Sciences we worked together in harmony and friendship."
Said Bob Dostal, Rufus M. Jones Professor of Philosophy and Religion: "Karen's love for Bryn Mawr knew no bounds. Her wit and humor enlivened many a meeting and diffused the tension in many difficult situations. Her excellent taste and aesthetic standards importantly helped preserve and shape the look of the campus."
Denise Hurley '82, Bryn Mawr Trustee, said: "Karen Tidmarsh saved my academic life my freshman year by adopting me as her advisee." She added: "Her humor and warmth got me through not only Bryn Mawr but provided a template for a successful life after graduation: to look at the world critically but with laughter, treat everyone kindly, and to help people make connections."
Karen also was known for her charming, self-effacing, sometimes sly, wit. The only way she drew attention to herself was in her original and elegant, but at times bordering on the bizarre, style in clothing.
"From Karen, I learned how to negotiate New England," said her former roommate Fox. "A worn-out Fair Isle sweater is a sign of old wealth, not no wealth. And she introduced me to the Famous Tidmarsh Outfit Theory—'What good is the perfect blouse without the perfect skirt?'."
Said Betty Vermey, Director Emeritus of Admissions at Bryn Mawr and a longtime friend, "She had such a strong sense of visual beauty. She loved subtle color combinations and designs. The clothes she chose and her home, scene of many dinners for students and friends, expressed her love of beauty, as well as her quirky sides. Her spoken word, too, was elegant, ironic, sharp and witty. Loyalty, truthfulness, honor—those are virtues that Karen had in abundance."
Sandra Berwind, Professor Emeritus and an English department colleague, said: "She loved her friends, her cats and her Morris chairs—not necessarily in that order. And she was chronically late for everything except meals."
Asked to describe her, Karen's friends draw remarkably similar portraits.
"Karen tended to her students' minds and hearts, and so, like her friends, they respected and also loved her," said Judith Shapiro, President Emeritus of Barnard College and former Provost and Professor Emeritus of Anthropology at Bryn Mawr.
Said Peg Healy, President Emeritus of Rosemont College and former Treasurer of Bryn Mawr, "Karen was a teacher, educating us in how to live and, finally, how to die."
Mary Dunn, President Emeritus of Smith College and former Dean of the College and Professor of History at Bryn Mawr, said: "When I was Dean, I had a brilliant staff of deans. Karen was unmatched in her ability to understand and work with students. The troubled among them received from her the advice and help that was their salvation. The untroubled knew her as a solid supporter in their educational journeys. I know there are thousands of alumnae who will join me in mourning her passing."
Said Pat McPherson, President of Bryn Mawr from 1978 to 1997: "Few members of the Bryn Mawr community have been so enjoyed and admired as Karen. Her intelligence, wit and high standards made her a splendid colleague and very dear friend. Her grace, her courage in her last years became a very special gift to her many friends."
Nancy Vickers, Bryn Mawr President from 1997 to 2008, said: "No one matched her love of Bryn Mawr, her thoughtful grasp of its values and traditions, or her wry appreciation of its quirks. She dedicated her life to the College that had transformed her during her undergraduate years, and she labored brilliantly and tirelessly to make such transformations possible for others."
Added Jane McAuliffe, current President of Bryn Mawr: "Karen's dedication to students was legendary. Her legacy of devotion lives on in the memories of countless alumnae, many of whom can recall returning to campus years after graduation to a warm greeting from Karen and to her genuine interest in their lives since Bryn Mawr."
An only child born in Newton, Massachusetts, she was preceded in death by her father, Maurice Tidmarsh, and mother, Frances Green Tidmarsh.
In lieu of flowers, contributions can be made to Bryn Mawr in Karen's memory. The Dean Karen Tidmarsh '71 Scholarship Fund, created in 2007 by a gift from Sandra Berwind, provides financial aid to undergraduates, with a preference for students from the Philadelphia area public high schools. The Dean Karen Tidmarsh '71 Summer Internship Fund, established in 2011 with gifts from members of Karen's class, supports summer internships for undergraduate students in the fields of community development or social change.
Memorial gifts can be sent to Bryn Mawr College, Helfarian, 101 N. Merion Ave., Bryn Mawr, PA 19010, with Tidmarsh Scholarship or Tidmarsh Internship designated on the memo line. You may also give online. In the Gift Information section, please type either Tidmarsh Scholarship or Tidmarsh Internship in the "Specify a Designation" box. To give via credit card over the phone, please call 610-526-7395 or 610-526-7380.
The College welcomes your remembrances of Karen on a blog dedicated to her memory.
To read The Philadelphia Inquirer obituary, go here.
Comments Off

on Bryn Mawr Mourns the Passing of Beloved Dean Karen Tidmarsh