From the mundane beep of a cell phone announcing the arrival of yet another new message to the horrors of the evening news, stress, it seems, is all around us.
But what if we've become too stressed about stress? Might it be keeping us from paying more attention to the problems that are making us all feel so stressed out?
That's one of the questions asked in the new book One Nation Under Stress: The Trouble with Stress as an Idea by Graduate School of Social Work Professor Dana Becker.
"I'm not dismissing the fact that people experience something we call stress," says Becker. "However, I think the middle class has become so preoccupied with stress and its effects on our health and mental health that we often fail to look at the larger societal problems that cause much of the stress in the first place."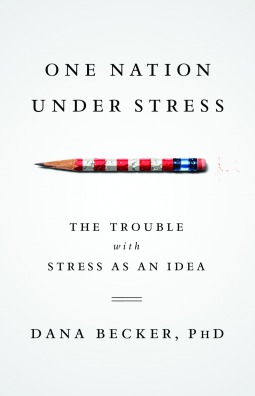 The idea that progress exacts a toll on society in the form of added "nervousness" has been around since at least the mid-19th century, points out Becker. However, it's been just in the past 40 years or so that there has been so much attention given to dealing with the effects of the stress itself rather than the causes of stress.
"In the '70s and '80s, when middle-class women began to move into the workplace in large numbers, all of a sudden we started to worry about women's stress and attribute it to what we now call 'work-life conflict,'" says Becker. "Women receive advice from every quarter on how to deal with stress, but as a society we still haven't resolved the problem of family-unfriendly workplaces or tackled the age-old devaluation of caregiving in our society that often results in women's continuing to do the lion's share of family work.
"I think it's worthwhile to ask whether the idea of stress as we've come to know it in 2013 is performing a perverse form of social service for us by helping us avoid making the social changes that could have broad—and possibly unsettling—implications for the status quo."
In her book, Becker also looks at the rise of post-traumatic stress (PTSD) among U.S. veterans and its impact beyond the problems it creates for individual service members.
"Our national conversation has more to do with the high incidence of PTSD in returning veterans than with what it means to wage war in the age of terrorism," says Becker.
Becker earned a bachelor's degree in classical archaeology from Bryn Mawr in 1969 and credits her undergraduate liberal arts education for giving her the foundation to tackle such a complex subject.
"This concept of stress can't be viewed through a narrow lens. It requires an examination of the current therapeutic culture, our social history, our tradition of liberal individualism, and our belief in the power of science and technology to solve problems. You have to bring everything to bear when analyzing cultural ideas, and I really credit Bryn Mawr with my ability to tackle interdisciplinary research."
Becker's previous books include Through the Looking Glass: Women and Borderline Personality Disorder and The Myth of Empowerment: Women and the Therapeutic Culture in America.
As one of the nation's oldest academic social work programs, the Bryn Mawr College Graduate School of Social Work and Social Research is part of a College with a long-standing, well-respected dedication to both scholarship and social responsibility. For more, visit the GSSWSR website
Comments Off

on New Book from GSSWSR Professor Dana Becker Asks, "Have We Become Too Stressed about Stress?"