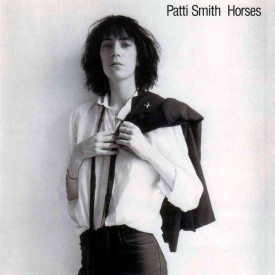 Patti Smith will accept the 2013 Hepburn Medal at a ceremony in Goodhart Hall this evening. To follow along with events occurring throughout the day search the hashtag #BMCHepburn on Twitter. We plan to post some photos on Facebook tomorrow and to have a complete wrap-up next week.
Smith will be performing at 4 p.m. in McPherson Auditorium, Goodhart Hall. Tickets are no longer available, however unclaimed seats may be available to Tri-Co students, faculty, and staff at the door. A Tri-Co ID is required. There will be a brief book signing immediately following the performance. For more on Smith's selection as the 2013 recipient of the Katharine Hepburn Medal, see this article.
"It is the new generation that will redefine the landscape of rock and roll and together they have the power — the unprecedented power — to unite and make great changes in our world, to make our world a better place where sometimes we have tried and failed. So, I salute the new generations."
— Patti Smith, 2007 Rock and Roll Hall of Fame induction speech.
Comments Off

on Patti Smith Accepts Hepburn Medal Feb. 7