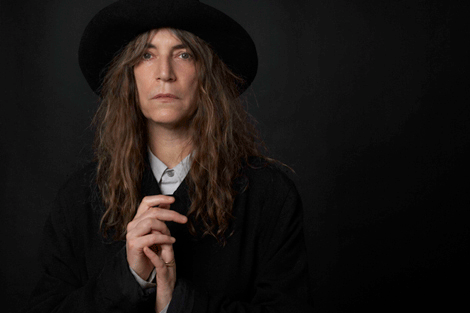 The "Godmother of Punk" Patti Smith will be at Bryn Mawr this Thursday, Feb. 7, to accept the 2013 Katharine Hepburn Medal and to perform for students. For more on Smith's selection as the 2013 recipient of the Katharine Hepburn Medal, see this article.
The student performance is at 4 p.m. in McPherson Auditorium, Goodhart Hall. Students can reserve a ticket by completing the form at:
https://brynmawr.wufoo.com/forms/patti-smith-student-concert/
Students must use their brynmawr.edu email address to reserve a ticket; one ticket can be reserved per student.
Tickets can be picked up, with College ID, between 9 a.m. and 5 p.m. in the Conferences and Events Offices until Tuesday, February 5, at 5 p.m.
Tickets to the evening ceremony are open to the general public and
may be purchased for $175.
Bryn Mawr faculty, students and staff may purchase a discounted ticket for $50 by calling 610-526-5115. Credit or debit card required. Offer ends Tuesday, Feb. 5., at 5 p.m.
Tickets not picked up by Tuesday, February 5, at 5 p.m. will be released. Any tickets remaining on Wednesday, February 6, may be claimed by Bryn Mawr faculty and staff. The Conferences and Events Office will send an email Tuesday after 5 p.m. with more information.
On the day of the performance, there will be no will-call window. Tri-Co students, faculty, and staff may wait at the door for any unclaimed seats. Doors will open at 3 p.m.
Careers in Journalism Panel with Kim Masters '76 and Neda Ulaby '93
In conjunction with Smith's visit to campus, there will also be an informal Q&A for students interested in careers in journalism with Bryn Mawr alumnae Kim Masters '76 and Neda E. Ulaby '93. Masters is the editor-at-large for The Hollywood Reporter and Ulaby is an arts reporter for National Public Radio. This event takes place Thursday, Feb. 7 at 1:30 p.m. in the English House Lecture Hall and is open to all Bryn Mawr students. Light refreshments will be served.
Comments Off

on Patti Smith to Accept Hepburn Medal and Perform for Students