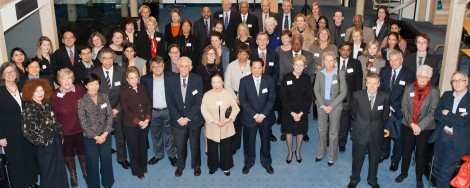 Bryn Mawr president Jane McAuliffe was among a select group of governmental, corporate, non-profit, and academic leaders to attend this year's Emerging Markets Symposium (EMS) at the University of Oxford Green Templeton College earlier this month. Participants are invited in light of their stature, diverse knowledge and experience, and capacity to influence policies and practices in the public and/or private sectors in their respective spheres.
"The true promise of women's lives—genuine empowerment and opportunity—will take root only through a complex understanding of economics, public health and the environment, politics and organization, security and diplomacy, and human rights."
The Plan for Bryn Mawr.
McAuliffe was the only U.S. college president at this year's symposium, which focused on Gender Inequality in Emerging Markets. Other participants included the former prime minister of Pakistan Shaukat Aziz, World Bank officials including Vice President Otaviano Canuto, several leading economists and public health experts, and presidents and CEOs of a number of multilateral enterprises. Also among the participants was Women's World Banking CEO Mary Ellen Iskenderian, who gave the keynote address at Bryn Mawr's "Next Wave" conference, and Council on Foreign Relations Senior Fellow Isobel Coleman, who spoke at Bryn Mawr in 2011.
"It was an honor to take part in such a timely discussion on topics that are central to Bryn Mawr's mission of empowering women to be the leaders of the future," said McAuliffe. "Whether it's through our work with the Women in Public Service Project, hosting the Next Wave and Heritage and Hope conferences, or participating in a symposium like this, Bryn Mawr is deeply engaged in these important conversations."
Against the background of outraged reactions to recent events in India, South Africa, and Saudi Arabia, the symposium on Gender Inequality in Emerging Markets endorsed 11 actions to address the causes and consequences of the economic, social and political subordination of women in emerging markets.
The symposium's recommended actions for leaders throughout the world are:
Address economic and reproductive factors that limit or inhibit primary, secondary, and tertiary education for girls and women
Design financial arrangements and provide market access and product support for women entrepreneurs
Enjoin the private sector to support creative solutions to the childcare and eldercare problems of working parents
Leverage technology to address information imbalances and free women from isolation
Adopt gender equality as a national goal and comply with international and regional agreements
Develop new narratives on gender equality
Adopt quotas for women's representation in leadership
Sponsor progress towards gender equality in recognition of and "with the grain" of religiosity
Name and shame companies and governments that do not support gender equality
Urge multilateral financial institutions, including the World Bank and Regional Development, to incorporate policies and practices on gender equality in conditions placed on loans.
Lobby for the inclusion of a specific target on women's economic empowerment in the post 2015 Millennium Development Goals.
The mission of the EMS is to bring together authoritative and influential leaders from governments, the public and private sectors, and academia to address sectoral issues that are critical to human welfare in emerging market countries; to enhance public understanding of those issues; and to promote changes in public and private sector policies and practices to implement their recommendations. Participation is by invitation and limited to between 40 and 50 individuals depending on the nature and complexity of the topic.
Comments Off

on Bryn Mawr President Jane McAuliffe Joins Select Leaders For International Symposium on Gender Inequality in Emerging Markets