Bryn Mawr's Treasurer's Office hosts a series of workshops throughout the year on management, finance, and entrepreneurship. During this year's management workshop, we asked a number of the students participating to serve as guest bloggers. Read what they had to say about the experience below.
Jessica Tan '13 on Jessie Washington '90
Farhat Rahman '13 on Georgette Phillips '81
Kendra Kelly '13 on Cynthia Archer '75
Alia Luz '14 on Rebecca Katz '96
Maddie Brady '15 on Networking
Summer Xia '15 on the "Energy" of the Management Workshop
Jessica Tan '13 on Jessie Washington '90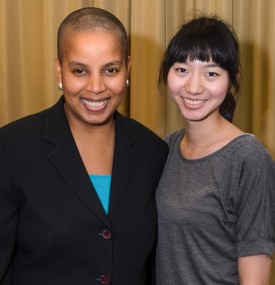 Kicking off the first day of a five-day intensive certificate in management course first envisioned and organized by Bryn Mawr's CFO John Griffith, students gazed attentively as Meredith Myers, a professor at Wharton and the instructor for the management seminar, introduced the guest speaker.
The woman introduced herself as Jessie Washington, an alumna of the Class of 1990. Starting off in a soft-spoken but articulate manner, Jessie talked a bit about her personal experiences that had been accumulated during her time at Bryn Mawr and afterwards. Her dialogue revealed many little nuggets of wisdom she had picked up along the way in her career, such as the usefulness of three skills that her liberal arts education had helped to develop and hone: writing, research, and an inquisitive nature.
She likened the learning process to a computer in a clever analogy. According to her, our memory is the RAM, while references books are like the hard disk. One is able to recall information from his or her mind, but can use books accordingly to supplement one's knowledge when called for.
Unhesitatingly a self-proclaimed "introvert," she spoke about how Bryn Mawr helped her get "well-adjusted" by exposing her to many different kinds of people. Taking an informal poll of the students who were revealed to be a mix of introverts and extroverts, Jessie stressed the importance of participating in extracurricular activities in college while the opportunity was still available.
Perhaps one of the more memorable points she made was her distinction between vocation and avocation. She described vocation as one's job, or how one makes money, and avocation as one's passion. Drawing on her experiences with the non-profit sector, she stimulated us to wonder if the two could somehow be combined without sacrificing the integrity of one over the other.
In addition, she drew upon her years at Dartmouth business school by characterizing the environment as a "battlefield" in which she and her classmates felt a sense of camaraderie and since everyone who was accepted was expected to graduate, they had great empathy for one another and would feel dispirited for those who left before the completion of their business school education.
Jessie traced the journey of her first exposure to consulting (which was made possible by the CDO) to her current occupation as a senior consultant for Booz Allen Hamilton. Students were struck by her honesty and down-to-earth manner, especially when it came to recognizing her failures and using those experiences to make the most of future endeavors. Jessie Washington set a tone of appreciation for the sharing of alumnae's diverse experiences that would linger for the rest of the week.
Farhat Rahman '13 on Georgette Phillips '81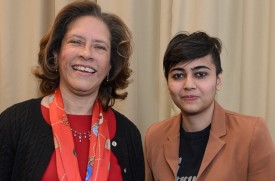 On the second day of the Certificate in Management course, the alumnae lunch talk hosted Wharton Vice Dean and Professor Georgette Chapman Phillips. After an introduction was provided on the far-reaching impact she continues to have on the lives of Bryn Mawr students, especially in her deep commitments in helping students enter the workforce, the conversation was opened up for questions and answers.
During the Q&A, she reflected on the transformative experience she had witnessed during her time at Bryn Mawr, where she had never envisioned she would reach her current goals, since they are vastly different from the ideologies she had harbored during her college years. After graduation, she chose to take some time off before applying to law school where she believed that her law degree would enable her to explore different career paths. She talked about how Bryn Mawr women are taught to hone their writing skills, which is highly applicable in all employment sectors.
When asked about the skills that would be useful for current students entering the workforce, she iterated that management skills are imperative in both the non-profit and for-profit sectors, since leadership, innovation and entrepreneurship skills are in demand everywhere. When asked about the barriers she had faced as an African-American woman in a predominantly male dominated sector, she weaved a narrative on how she managed to craft a culture in her workplace that did not cross sexist or ethnocentric lines. However, one of the key pieces of advice she shared with the class was the ability to be assertive and to avoid sitting on the periphery while the world moved on.
What Georgette Chapman Phillips' speech taught me was the necessity to engage in different experiences and work environments to better understand the career and educational paths that one would have to take in future endeavors. In order to reach our desired destinations, it is important to possess political savvy and to develop a sense of accountability and empathy to those around you. Once these instincts are followed and cultivated, people will immediately start giving you power and respect.
For Ms. Phillips, achieving a wide range of her aspirations in a given number of years was not part of any conscious decision. These accomplishments all happened gradually at the right place and time; there was not one explosive and singular moment that suddenly changed her life. She also changed my perception of how non-profits are run and how they are quite similar to a for-profit institution, especially in skill levels. She claimed that 'one big fallacy of going into non-profit work is the statement that people there did not have business skills.'
Although Bryn Mawr allows a majority of its students to pursue their passions, Ms. Phillips does manage to put forth that our life's work does not necessarily have to revolve around that one particular passion. So if you can't follow your passion, what can you do? This passion can be translated into something else, especially due to the information age and non-traditional forms of employment that are available to us. At Bryn Mawr, we are also trained to view the opportunities that come our way, and the ability to bring those ideas to the forefront of any discussion can allow us to transcend ourselves and to realize the leadership qualities that have been in place within us all along. This is what makes one a leader because, as Ms. Phillips said in her closing statement, "….sometimes people don't have the insight or intelligence to see an opportunity ahead."
Kendra Kelly '13 on Cynthia Archer '75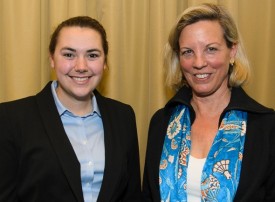 Sometimes I forget I go to a women's college. I never went through an adjustment period of adapting to classrooms, dorms, or student activities where women were in the majority. The implications of constantly seeing women in leadership positions at Bryn Mawr never bore much thought until recently. As I come around the bend of my final months at Bryn Mawr, the reality of entering into a workforce where women do not always dominate leadership positions startles me. I now realize how powerful an experience the last four years of my life at Bryn Mawr have been. Nothing drove this home more than participating in Bryn Mawr College Treasurer John Griffith's brainchild—the week-long Certificate in Management course.
During the week, Cynthia A. Archer, Class of '75, the current vice president of marketing and development at Sunoco, Inc., spoke to students in the course about overcoming their fears and pushing out of their comfort zones. In her career, Archer accepted a job in the operating division of a railroad, subsequently becoming one of the first women in North America to hold such a position; there she faced her fear of heading up potentially dangerous situations, for which she was on call 24/7. She advised students to "eliminate their fears by doing them," just as she did when she successfully figured out how to get people to work together more safely during her time with Conrail.
I looked around the classroom during Archer's talk and realized just how incredible it was to be sitting in a room full of women, all of whom are eager-to-learn self-starters, who gave up a week of winter break to dedicate themselves to learning concrete skills such as reframing organizations and practicing negotiating skills. I considered our speakers from the week—the accomplished alumnae whose dedication to women's education had lead them once again back to The Mawr—and knew that my college was instilling in me the skills to enter the workplace with confidence.
Archer's comments on taking risks but looking for companies whose values can be trusted particularly resonated with me. She encouraged students to "look at the company's culture: look for what you like, who you trust, and how you think people should be treated." Will the company give you the tools you need to get your work done? The work place should be "comfortable, productive and trustful," noted Archer, before laughing. "Well, maybe not comfortable, if you're comfortable you are not trusting yourself."
The opportunity to engage with the various alumnae speakers throughout the week gave many students hope. At one time these speakers had been seated at our desks, facing both the excitement and the challenges of entering the workforce. But Bryn Mawr's Management students have an edge, Archer reflected, echoing several other alumnae speakers: The Certificate in Management course was not around during their time on campus. Through this experience students are developing realistic skills which will strengthen them as leaders and as managers in their careers. "Your education is deeper than a whole lot of people coming out of college your own age," said Archer. "You are starting with a whole lot more than you know."
Alia Luz '14 on Rebecca Katz '96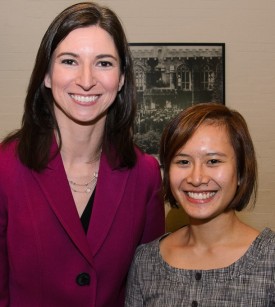 On the last day of the 2013 management workshop, I was seated in the back of Dalton 300, the workshop's designated site, along with Bryn Mawr Chief Financial Officer John Griffith and the day's alumnae speaker, Rebecca Katz '96, a principal at Vanguard's Participant Education Department who also serves as a company spokesperson.
A group was giving a persuasive argument on their case study analysis and recommendations for a company who'd suddenly found the need for a better business plan given threats of buyout, rising ingredient prices, and changing consumer trends. Each participant utilized all the technical vocabulary, know-how, and confidence gained throughout the five-day workshop to deliver their group presentations.
Rebecca had glided in quietly in the middle of it all, and patiently waited for the lunch break to address the 60 participants with a bold talk on "Why an Art Major Should Be Your Next CEO."
As we munched on sandwiches and wraps, she took the floor with a description of how she'd majored in Russian at Bryn Mawr because the alternative, Spanish, was held at the ungodly hour of 8 in the morning. After joining Vanguard, an investment agency based in Pennsylvania, Rebecca took on diverse roles—answering phones, being a mutual funds analyst, working in corporate strategy, public relations, and finally to her current post.
Then she said where she was now is because of three things she learned in college: critical thinking, communication and cooperation, and being flexible in accepting change. That the real gift is our desire to jump above and beyond the bar, how we as Bryn Mawr students throw ourselves into learning and discovering as much about a topic as possible, whether it be Russian, anthropology, or mathematics, and how we build networks and communities around us that help us work collaboratively to achieve our goals. We strive to better ourselves in every way possible, with such steps like this workshop, tirelessly working for our passions.
That's why liberal arts majors can take the lead in the business, non-profit, or government worlds, and, like Rebecca, return to give back to and encourage the next wave of BMC women leaders.
Maddie Brady '15 on Networking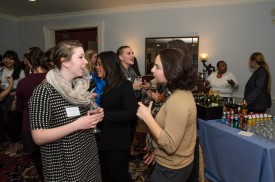 I am not a schmoozer. I've always found networking to be more insincere than inspiring and more uncomfortable than remarkable. I always end up laughing too much or trying to make a joke that I remember isn't really that funny and by the end of the conversation they know all about my dog and nothing about my career aspirations.
Frankly, I'm kind of a mess when it comes to mingling.
So you can imagine I was less than thrilled when I learned we would be attending a networking event (aka cocktail party/ aka schmooze-fest) as part of last week's Certificate in Management program. A slew of alumnae would be in attendance to talk with us about the program, our interests, and their careers in fields such as marketing, information technology, and consulting. Networking has always had a sort of skuzzy connotation to me, like I was supposed to sell my soul to a potential future employer over mini-hotdogs.
Even though we had been working on our networking skills in class, I still felt woefully unprepared and was anxious upon our arrival at Wyndham.
After giving myself a pep talk and going to "freshen up" in the bathroom for a good 20 minutes, I finally took the plunge. I walked up to someone, introduced myself, initiated a conversation, and, well, I wasn't great. It took a few flubs to realize that everyone I had a conversation with actually seemed genuinely interested in what I had to say. Instead of feeling like a resume-peddling undergrad, I felt like I was talking to human beings, not employers that I needed to impress.
Once I realized that these women were there to help me, not judge me, it took the pressure off. As I made my way around the room, I began to understand that this group was part of a network committed to helping women become high achievers in typically "boys' club" industries. I'd heard talk of the famous Bryn Mawr alumnae network for so long, but it was never really tangible until that moment.
Although I didn't become a networking wizard by the end of that night, I feel like I warmed up to the idea a little more, as well as having the opportunity to talk with some highly accomplished women. All week, the Certificate in Management course pushed us to be comfortable in situations that make us uncomfortable and to be empowered by the challenges we choose to take on. Networking night was not only a challenge that pushed me to take greater agency in my own career, but a reminder of the sincere and active support BMC's alumnae provide for the school, current students, and one another.
Summer Xia '15 on the "Energy" of the Management Workshop
Personally, the week before returning to school had always been a time for great remorse about another unproductive vacation and the irrepressible anxiety about the looming semester that never fails to arrive before I've ever gotten the chance to perk up my energy level. While I had been expecting no exception this year, I walked into the management workshop and realized that this is exactly the place where I can be fully motivated and well-fueled for not only the new semester, but the unknown yet exciting future.
However abstract and lofty the concept of organizational management used to resonate with me, the workshop has certainly succeeded in demystifying the awe-inspiring art of management. Beyond all the solid and eye-opening knowledge about organizational structures, communication skills, strategic analysis and so on, the fundamental idea which I believe greatly inspired all the Mawrters present was that with unfailing confidence and deliberate cultivation of leadership skills, we are more than capable of empowering ourselves to become successful managers and get our voice heard in any business settings. Such optimism resulted from the ever-deepening understanding of business cases through heated discussions, the insightful lessons learned from role play practices of negotiation and communicating skills, and last but not least, the invaluable wisdom and genuine encouragement from experienced alumnae speakers.
The inspiring remark of Gigi Chapman Phillips '81 has just replayed once again in my mind: "the first step toward any power and leading position is to be confident that you have better ideas that can make things better." And I'll never forget the lesson learned from the myriad and innumerable experiences that Jessie Washington '90 shared with us, that every new experience gained will become yet another unique asset that only expands future opportunities and possibilities. The young alumnae panel provided the most updated tips for job searching and unfolded a brighter outlook for the future after Bryn Mawr. When asked about how the liberal arts education at Bryn Mawr has contributed to their success, the alumnae speakers all mentioned the exceptional writing skills and research skills incubated and nourished by the Byrn Mawr education have played essential roles in promoting their respective professional achievements.
If I am to summarize all my gains from this intensive one-week management workshop in one word, that'll be energy. Energies are constantly absorbed from our wonderful lecturer, Meredith Myers, who not only offered us valuable knowledge but also represented the very female role model of infinite energy and great confidence. Energies are provided by peer Mawrters who never failed to introduce different and inspiring new aspects of issues, which always triggered further insights and led our understanding to yet a higher level. It suddenly becomes clear to me at this moment that beneath all the diverse backgrounds and beliefs, there are certain underlying similarities that distinguish Bryn Mawr students, which is the irrepressible desire of pushing forward the frontier of the unknown and the incessant drive of raising questions and actively looking for answers. I felt greatly energized and refreshed after a feet-forward session during which each of us approached other students simply seeking advice about the difficulty of executing leadership. Getting fantastic ideas from different people and being able to offer suggestions that I had not believed I was able to make doubly benefited me by enriching my reservoir of problem-solving and communicating skills as well as heightening my confidence level.
The network event with Bryn Mawr alumnae witnessed the climax of my energy as I was more than ready to try out new networking skills I learned in the workshop.
As a potential Economics major, one principle I took from all my Econ classes is that expectations about the future will, in some mystic ways, inevitably become the reality in the future. On the one hand, the management workshop confirmed the expectations that we Mawrters, as curious learners and determined and dauntless women, will be able to achieve our aspirations of raising our voices and getting them heard. On the other hand, it also provided the feasible way of realizing such expectations: to have trust in ourselves and to be equipped with necessary knowledge and skills that result from deliberate learning and painstaking practice. With such important lessons gained from the workshop, how can I feel anything but greatly motivated and ready for a new semester that entails new challenges and more inspiring things to absorb?
Comments Off

on BMC Students Reflect on Management Workshop's Alumnae Speakers, Networking, and More