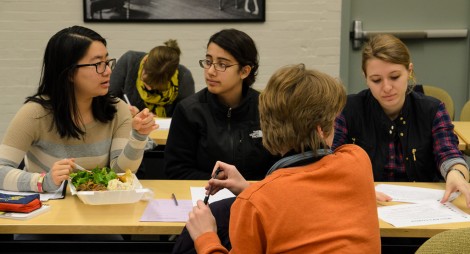 On Tuesday, Dec. 11, 20 students gathered in Dalton Hall to prepare for their spring semester junior year abroad. This year, 38 students will be traveling to 17 different countries around the world.
The orientation session was run by Assistant Dean and Director of International Programs Theresa Cann, who provided important information on health and safety tips, as well as academic standards and expectations, while Senior Assistant Director for Student Financial Services Felicia Rivera explained the financial requirements and policies.
Seniors Kyle Aguilar and Jenny Chen, study abroad student coordinators, covered "to-do" items that are often overlooked when students arrive abroad, including buying/unlocking a cell phone, obtaining a credit card and an International Student Identification card, and exploring transportation options. Student Coordinators stressed the importance of research prior to departure to learn what works best in each country.
Among the students studying abroad was Madiha Irfan, who will be studying in Jordan.
"This is an opportunity to learn about the culture and to have the chance to see so much history," says Irfan. "I'm really hoping that being surrounded by those speaking the language and hearing it all around me will improve my Arabic."
Also in attendance was Ilena Pegan, who's headed to the University of Otago in New Zealand, and hopes to complete field work in geology and take courses that combine computer sciences with geology.
"Going to New Zealand is going to be pretty amazing on its own," says Pegan, "but having the opportunity to do field work in New Zealand's geology, which is much more diverse than in Philadelphia, is what I'm most excited about."
In addition to Jordan and New Zealand, Bryn Mawr students will also be studying in South Africa, Israel, China, Japan, Ecuador, and several European countries.
To find out more about Bryn Mawr's study abroad program, visit the Office of International programs website.
Comments Off

on Students Prepare for Spring Junior Year Abroad