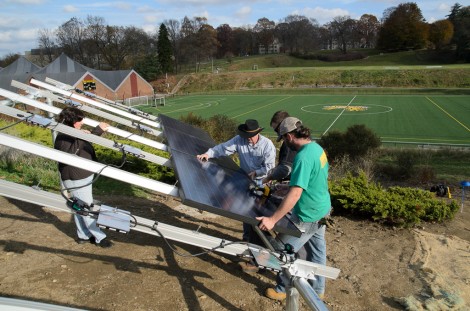 As part of the Bryn Mawr's ongoing environmental sustainability efforts, the College installed its first set of solar panels in the garden behind Cambrian Row on Monday.
These panels, one large panel and two smaller ones, will be used to offset power consumed by emergency lighting and other backup systems in all of the buildings in Cambrian Row. The power generated from the panels is a yearly reduction of 1437.5 pounds of carbon emission or the equivalent of planting 145 trees.
The decision to install solar panels on campus was the idea of Alisha Pradhan '13, who researched solar panels as part of the Summer Science Research Program in 2012 and made a proposal to the facilities office. In October, staff, faculty, and students joined together in digging the footers for the solar panel supports.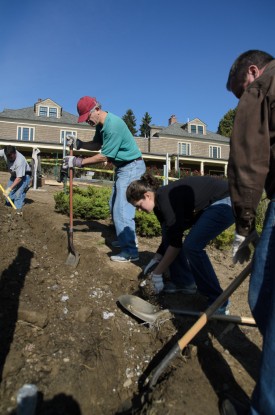 Along with reduced carbon emissions, the panels offer an educational opportunity for the Bryn Mawr community. They are placed at ground level so onlookers can see the technology up close and there are already discussions underway for faculty members to incorporate the panels into course work.
For more on the panels, visit Bryn Mawr's Environmental Sustainability blog.
Comments Off

on Solar Panels Installed on Cambrian Row