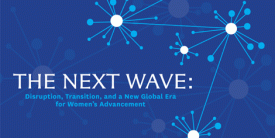 The 21st century has brought major shifts in economic and political power, social structures, and information flows around the world. While these disruptions have threatened the well-being of many, they have at the same time created openings for positive social and political change. Nowhere is this twinned reality of threat and opportunity more apparent than in the lives of the world's most vulnerable women and girls.
On Tuesday, Dec. 4, Bryn Mawr College will host a dynamic mix of established and emerging leaders for a one-day colloquium to discuss strategies to promote women's advancement globally.
Titled "The Next Wave: Disruption, Transition, and a New Global Era for Women's Advancement," this event will focus in particular on a younger generation of activists who are using new tools and strategies to build upon the progress that has been achieved over the past decade through initiatives sparked by U.N. conferences on women and the Millenium Development Goals.
Participants include:
Keynote speaker and Women's World Banking CEO Mary Ellen Iskenderian, who leads the world's largest network of microfinance organizations and banks;
Activists and social entrepreneurs such as Shelby Knox of Change.org and Jensine Larsen, founder of World Pulse;
Leaders of women's leadership initiatives, such as Laura Bode of iL2L Young Women's International Leadership and Betsy Hoody of the Young Feminist Fund;
Student social entrepreneurs and activists from Bryn Mawr, Haverford, Smith, Swarthmore, and Wellesley.
"We are at a moment of critical—and this time global—social rethinking. And this is particularly true for women's advancement," says Bryn Mawr President Jane McAuliffe. "We in higher education, as incubators of ideas and educators of students, can play a central role in that process. I'm so pleased to welcome such a distinguished group to campus to engage in the sort of intensive, reflexive dialogues that are the hallmark of the Bryn Mawr experience and key to all of our futures."
Designed to be more interactive than the ordinary conference, "Next Wave" will be webcast and attendees (including those online) will have multiple opportunities to ask questions of, and interact with, colloquium presenters. A url for the webcast will be available in the near future on the colloquium website.
"Next Wave" is the second in a biennial series of international conferences held at Bryn Mawr on gender equity.  The inaugural event, "Heritage and Hope: Women's Education in a Global Context," featured Ambassador Melanne Verveer, New York Times Columnist Nicholas Kristof, and a number of international education leaders and researchers.
These conferences complement many other College initiatives and collaborations, including Bryn Mawr's work with the Women in Public Service Project, which was co-founded by Secretary of State Hillary Clinton, the U.S. State Department, and the remaining "sister" colleges.
This event is free of charge, and faculty members from throughout the area are encouraged to bring relevant classes. "Next Wave" is being held on Bryn Mawr's campus in Goodhart Hall and will run from 10:15 a.m. to 5:15 p.m. and includes lunch with other attendees and speakers. Additional details can be found on the "Next Wave" website.
Registration is required and can be done online here.
Comments Off

on Educators, Activists, and Corporate and Political Leaders to Gather at Bryn Mawr on Dec. 4 to Discuss the "Next Wave" of Women's Advancement