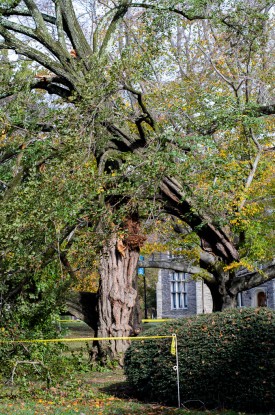 Yellow caution tape, generators, and downed branches and tree limbs were still visible on campus and talk of how everyone weathered Hurricane Sandy filled the air Wednesday as Bryn Mawr resumed classes and continued to clean up from the "storm of the century."
Hurricane Sandy cancelled classes, temporarily closed dining halls, and knocked out power to the campus from Monday night through most of Tuesday. But through it all, Bryn Mawr staff and students proved their mettle.
"While an event like this is never welcomed, it has been wonderful to witness the Bryn Mawr community at its best," wrote Bryn Mawr President Jane McAuliffe in an email to faculty, staff, and students.
"Our folks in Facilities, Campus Safety, and Dining Services deserve special thanks for their extraordinary efforts to minimize and address the impact the storm would have on the students, as well as faculty and staff," added McAuliffe. "Many people in these departments worked around the clock, slept on campus, and left their families in order to serve our community.  Their commitment is both admirable and heartwarming."
McAuliffe also gave a shout out to students in the message for their "attention, patience, and good spirits during the past few days."
Chief Administrative Officer Jerry Berenson was also praised by McAuliffe for his leadership during the crisis; this praise was echoed by Bi-Co Director of Public Safety Tom King.
"From both the president and Jerry we were told, 'We trust you all to do what you have to do, just let us know what you need from us,'" said King. "Having that kind support from leadership makes all the difference in reacting to a situation like this."
King, who had just happened to attend a Federal Emergency Management Agency seminar in New Jersey early last week, also praised Bryn Mawr's students.
"They were absolutely brilliant," said King. "It's tough to be without power for a long time but our students are extremely resilient. They looked out for one another and listened to the information we put out there."
King also praised the work of campus safety officers, facilities personnel, the dean's office, dining services, and the communications and web services offices.
"We all got together on Friday and planned this thing out. But the truth is you can only anticipate so much. There were a lot of adjustments made on the fly and everyone remained flexible and did what had to be done," says King.
One of the biggest challenges during the course of the storm was making sure students were fed.
Dining Services closed early on Monday as the storm reached its peak to allow staff to get home but offered grab and go items for students to take to their rooms to replace dinner Monday and breakfast Tuesday.
Some dining services staff stayed on campus and on Tuesday morning at 6 a.m., with the power out, a skeleton crew of managers and full-time staff got to work at Erdman. Facilities brought in generators at 11 a.m. and soon lunch was ready.
Dining services was able to serve more than 900 lunches and as more staff made their way in, multiple van and truck loads of food and equipment were moved from Haffner, which remained without power.
However, power was restored to the entire campus at around 6 p.m. and  staff  worked late into the evening moving  everything back and setting things up so that both dining halls would be open and operating  on time and as usual Wednesday.
"The dedicated dining staff along with many others at the campus left their own homes and families to be here to provide continuous service to the students," said Bi-Co Executive Director of Dining Services Bernie Chung-Templeton. "They do this because they are dedicated professionals who care and are proud of what they do."
Chung-Templeton also praised the student staff at the dining halls.
"They're amazing. They came in early to make sure we had enough staff," Chung-Templeton says. "In adverse situations is when my stars shine the brightest. I love them all!"
The storm was also a test for Bryn Mawr's facilities staff, which had a full crew on hand from 7 a.m. Monday straight through until 9 p.m. Tuesday.
During the storm, facilities worked to keep drain lines open and monitor damage and ensured the generators were working properly when power went out. Tuesday was spent connecting additional generators in case the power outage stretched on for days.
Facilities Director Glenn Smith praised his staff in an email Wednesday.
"For more than 15 years I've been repeatedly impressed with the professionalism of our Facilities Team," wrote Smith. "But the true test of the caliber of an organization is how it performs under the pressure of a crisis. Sandy will go down in record books as one of the worst storms to ever hit the mid-Atlantic state region, but for me it will conjure up images of the best Facilities Team on any campus anywhere working together as a cohesive group in response to the worst that Sandy could dish out."
While it may have been close to Halloween, Sandy didn't seem to be too big of a scare for most students.
"I basically did a lot of sleeping," said Meron Kasahun '16, who lives in Pembroke East. "We had a mini beach party because it was Sandy and we wore bathing suits and ran around."
"I've been studying for the test I am going to take today," said Allie Wiegel '16. "Otherwise, I've been sitting in my room with my friends, drinking tea and not doing much."
"A couple of us went to our friend's room and we played Family Feud on the iPad," said Deborah Centeio '14, of Haffner. "We also played Uno in the dark, which made it pretty hard to see the difference between the blue and green cards, so we had to use flashlights and laptops for light."
Visit the College's Facebook page to add a word of thanks to those who helped the College make it through Hurricane Sandy.
Comments Off

on Staff and Students Shine as Bryn Mawr Weathers Hurricane Sandy