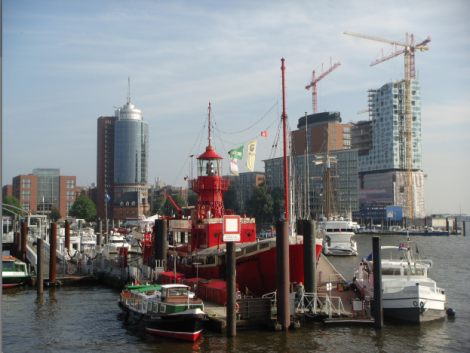 "Space and Identity: Psychological, Artistic, and Spatial Approaches to Hamburg, Philadelphia and Beyond," one of three 360° course clusters being offered for Spring 2013, examines issues of the self and society as they relate to the built environment, social upheaval, and migration.
"Space and Identity" includes the courses Spaces of Identity: Architecture and Urban Planning in Hamburg, taught by Professor Carola Hein, Growth and Structure of Cities; Identity under Pressure, taught by Professor Marc Schulz, Psychology, and Art of Exile: Emigration in Fiction, Film and Painting, taught by Associate Professor Tim Harte, Russian.
As the name of the 360° suggests, course work will focus in large part on the city and denizens (past and present) of Hamburg, with some consideration of Philadelphia as a fellow "second city." Hein's class will provide the foundation for engagement with Hamburg's urban form and social networks as they relate to identity. Schulz's class will explore how identity and our stories about our identities shift across time, and will use the experiences of Jews in Hamburg through Hitler's rise to power as a case example to explore these themes. Harte's class will look more broadly at émigré literature, film, and painting with a particular focus on the experiences of Russians and Turks in Germany.
While past 360°s have included travel components, "Space and Identity" marks the first time students will present their final projects to faculty and students from the host city, in this case scholars from HafenCity University (HCU). It also marks the first time the travel is planned for the end of the semester. Virtual collaboration with students from a seminar at HCU will serve as preparation for the trip to Hamburg, during which students will have the opportunity to do fieldwork.
"We're very excited about establishing international connections for students and faculty through the 360° model," says Hein, who was born and raised in Hamburg and built upon her personal experiences and contacts in the preparation of this course. "And by planning our travel for the end of the semester, we hope to allow students the flexibility to possibly stay in Europe longer for further research, internship, or travel."
Schulz also uses personal family history as a source of research materials.
Schulz's father's family emigrated from Poland to a Jewish neighborhood in Hamburg after the turn of the 20th century. The family fled Hamburg in late 1939 to come to the United States. Letters, photographs, documents, newspaper clipping, writings, and interviews with Schulz's father will provide students a unique research opportunity. This material will also serve as an illustration of narratives of identity and all students will be asked to research and construct a narrative of identity about someone they know.
Harte expands on his knowledge of Russian migration to include the Turkish migrant experience into his course, another innovative aspect of disciplinary and geographical outreach in a 360°.
Courses:
Spaces of Identity: Architecture and Urban Planning in Hamburg
This course establishes the basic framework for the spatial analysis of Hamburg. It examines the city's urban form as locus of the multiple global social and physical networks that have shaped local identity and that reflect histories as long as a millennium and that are the product of related sets of political, economic, social, cultural, and religious forces.
Carola Hein, Growth and Structure of Cities: Monday 1-3:30 p.m.
Identity under Pressure
This course explores psychological understandings of identity formation and change, particularly in times of upheaval and migration. Examples of identity formation will be drawn from psychological studies, the family histories of class participants, oral history projects, and the experiences of Jews in Hamburg, Germany before and during World War II.
Marc Schulz, Psychology: Monday/Wednesday 11:30 a.m.-1 p.m.
Art of Exile: Emigration in Fiction, Film & Painting
This course explores a diverse range of films (Akin, Fassbinder), paintings (Chagall, Rothko), and fictional prose works (Nabokov, Sebald) that probe the experience of exile and emigration. We will focus primarily on Russian émigré culture, 20th-century Jews, American immigrants, and the Turkish community in Hamburg, Germany.
Tim Harte, Russian: Monday/Wednesday 10-11:30 a.m.
Enrollment Criteria
An informational tea is being held on Friday, Nov. 2, in room 119 of Dalton Hall. To be considered for the course, students must preregister and complete an online application. The application must be completed and submitted to the instructors no later than by noon on Friday, November 9.  Students will receive final decisions on participation by Sunday, November 11th. For more information go to the 360° website.
Comments Off

on New 360° Offers Students Chance to Travel to Hamburg, Germany, as they Examine "Space and Identity"