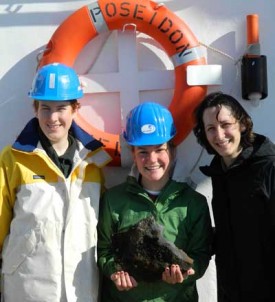 Last fall Evan Rivers was a sophomore who had planned on being a chemistry major but was thinking about switching to Geology. At the same time, Kelsey Meisenhelder, a Haverford student majoring in Geology at Bryn Mawr, was spending a semester in Hawaii, led by her interest in volcanoes.
An article on Bryn Mawr's website about an opportunity to do research with Geology's Lynne Elkins would bring the two of them together this summer aboard a research vessel in the frigid waters of the Arctic Sea for a once-in-a-lifetime opportunity.
"At the time I was just looking into geology after initially thinking I'd major in chemistry," recalls Rivers. "I had done some research work with the chemistry department and I wanted to do more of that so I started looking into which faculty members did geochemistry. The article about Lynne getting the funding for this trip was online and I thought, 'this looks awesome,' and sent her an email."
Meisenhelder remembers being equally excited after seeing the article.
"I emailed her right away and said 'this looks amazing, is there any way I can get in on this,'" Meisenhelder says.
The two promptly heard back from Elkins that the slots for students were still open and soon they were part of the team. Now they just needed to figure out exactly what they had gotten themselves into.
"Your first reaction is 'Yes!'" says Meisenhelder. "And then it's, 'what did I just sign up for?'"
Adds Rivers, "I really had no idea what to expect but I figured there were going to be plenty of people who knew what they were doing and that I was just there to lend a helping hand and to learn as much as I could."
What they had signed up for was a month at sea aboard the German research vessel Poseidon with seven other fellow researchers and 15 crew members. Researchers aboard the ship came from Germany, the U.K., Canada, Finland, the Netherlands, and the U.S.
Working in deep seas between Greenland and Jan Mayen Island, the researchers used dredges to gather samples of rock created by lava flows in a segment of the Mid-Atlantic Ridge known as the Northern Kolbeinsey Ridge. In addition, researchers aboard the vessel used sonar equipment from the ship and an autonomous underwater vehicle to do detailed mapping and imaging of the area.
"We know more about other planets than we do about much of the ocean floor," says Elkins. "This is an area that we know very little about. The existing mapping and sampling from this region has been done in a mostly random fashion. We wanted to go in there and really fill in the blanks."
The trip began with a flight to Hamburg, Germany, followed by a 45 minute bus ride to the port city of Kiel, from where they left for sea on July 6. Their transit to the research area lasted six days as they traveled the waters that separate the two sections of Denmark and through the North Sea until they entered the Atlantic and eventually reached the site.
However, when they got to the site there was one small problem.
"There was ice everywhere," says Elkins. "All around Greenland there was melting going on. I think the final estimate was that 98 percent of the surface ice of Greenland started melting this summer. It must have just calved a whole lot of glacial material which then traveled down the fjords and into the ocean."
While they tried to work around the ice, Elkins estimates that they lost at least a day's worth of productivity due to having to change their route to avoid being stuck amid the drifting glacial remnants.
At the research site, Rivers and Meisenhelder helped gather, clean, and analyze the volcanic rock brought up by the dredge, which is essentially a large iron bucket that is lowered to the seafloor and then dragged behind the ship to break off large rock samples and bring them up to the surface.
"No matter what Lynne said about how the dredges work, there's really no way to know what it's like until you see that first one come up," says Meisenhelder.
One dredge was particularly exciting because the rocks that came up were so "fresh" they were making popping noises caused by escaping gasses that had been trapped by the water pressure.
"All the samples we gathered must have formed within the last 10,000 years; most are likely younger. That's our upper bound. But the popping rocks are particularly young and were very exciting to find," says Elkins.
Adds Rivers, "Most often the dredges would be a third full and have a bunch of sponges and slimy sediment. This one was all the way full and overflowing with these incredibly fresh rocks. We pulled them up and they all just kind of did this dance on the deck."
It turns out the rocks were from a previously unknown large volcano the researchers discovered. In addition, the trip has already yielded much more detailed mapping of the area than previously existed and revealed new information about the production of new ocean crust occurring in the area.
When not working, Rivers and Meisenhelder found life on the ship to be much more comfortable than they expected.
"I had visited a submarine once and sort of thought the ship would be like that but it was actually very nice," says Meisenhelder.
"I was in a quad my freshman year and our room on the ship was larger than the side room I had that year," adds Rivers.
While internet service was spotty at best aboard the ship, the pair brought their personal electronics and there were DVD's, playing cards, and other things to help pass the time. Although the temperatures hovered around the freezing mark in the iceberg fields, those aboard the ship could always venture onto the deck and catch some rays since it was July in the Arctic and the sun never really set. Sea conditions during the trip ranged from completely still water and no wind to rough seas and near gale force winds.
Even the food was pretty good, although being a vegetarian on board a German ship did prove to be a bit of a challenge for Rivers.
"Germans don't really 'get' being a vegetarian," jokes Rivers. "But the chef on the ship was great about it. There was bread and cheese on the table at most meals. I ate a lot of potatoes. There were also a lot of creamed vegetables. And cabbage. A lot of cabbage. Saturdays were soup days and that was always interesting because it would slosh around as you tried to eat it."
Elkins, Rivers, Meisenhelder, and Haverford senior Rachel Davis will continue to analyze the rocks and imaging data they collected this academic year and next summer. While Davis was unable to make the cruise, she will be traveling to Germany this academic year to work with two of the cruise's staff scientists.
"Rachel's contributions in the lab have been invaluable," says Elkins.
University of Wyoming Associate Professor of Geology Ken Sims is the co-principal investigator with Elkins for the National Science Foundation grant that funded the trip and the additional research being done. Colin Devey of GEOMAR in Kiel is also a collaborator and was the chief scientist aboard the Poseidon.
"I consider the cruise a success because we came back with more questions than we left with and that's what science is all about," Elkins says. "This cruise justifies future cruises."
Comments Off

on Geology Students and Professor Explore Arctic Sea Floor