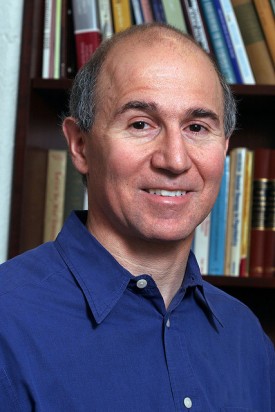 Questions as to whether participation in federal assistance programs makes individuals dependent on government services and unable to "take personal responsibility and care for their lives" as Republican Presidential Candidate Mitt Romney told a group of supporters, have taken center stage as the race for the White House enters its last few months.
Research led by Thomas Vartanian of Bryn Mawr's Graduate School of Social Work suggests that in the case of the federal Food Stamp Program, there's little evidence that being in the program for a short period of time (in this case early motherhood) leads to a greater likelihood of a lifetime of government dependence.
"We found no evidence that food stamp recipients in early motherhood are any more or less dependent on public assistance programs than other young mothers who have low income but do not use food stamps," says Vartanian, whose December 2011 article on the topic in the Journal of Sociology and Social Welfare was recently named the best article of the year by the journal's editorial board.
Lead author Vartanian shares writing and research credit for the article, titled "Food Stamps and Dependency: Disentangling the Short-Term and Long-Term Economic Effects of Food Stamp Receipt and Low Income for Young Mothers," with GSSWSR Ph.D. recipient  Linda Houser, now at Widener University, and  Joseph Harkness, from Johns Hopkins University.  The research was supported by a grant from the Institute for Research on Poverty, at the University of Wisconsin, Madison.
The researchers used data from the 1968 to 2005 Panel Study of Income Dynamics, a nationally representative, longitudinal data set that began in 1968 with approximately 5,000 families and had grown to nearly 8,000 families by 2005. They compared long-term economic conditions for low-income mothers who had received food stamps against those who hadn't.
They selected and followed mothers who became PSID-designated "heads of households" or wives with children. When the original data set started, all subjects were less than 28 years of age.
Outcomes are reported over five-year periods: ages 26-30, 31-35, and 36-40, as well as for the entire period, age 26-40.
"In general, we do not find that time receiving food stamps improves the economic situation of young mothers relative to those with low income and no transfer assistance," says Vartanian. "At the same time, because of the generally short-lived nature of initial food stamp usage effects, we find that the long-term impact of time on food stamps is neither positive nor negative for the economic outcomes we have examined relative to time with low income without government assistance."
Given that the findings don't show a particularly pronounced economic benefit for those receiving food stamps or provide evidence that participation in the program leads to greater dependency or poverty, the researchers point out that other, non-economic benefits of the program might be worth looking at when discussing policy.
"If, as some studies have suggested the use of food stamps leads to positive outcomes in other or non-economic areas, such as nutrition, consumption stabilization, or physical and emotional well-being, these alone may well justify continued support of the food stamp program," says Vartanian.
Vartanian and Houser have also recently published several articles on the benefits of paid family leave policies which have been cited in a number of media outlets including Forbes, The Chicago Tribune, and on National Public Radio.
Comments Off

on GSSWSR Professor's Research Questions Link Between Food Stamps and Long-Term Government Dependency