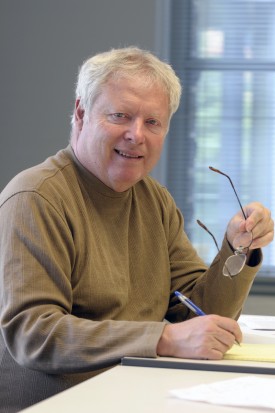 Esteemed Professor of Anthropology Philip Kilbride passed away on Saturday, Sept. 15. On Monday, Bryn Mawr President Jane McAuliffe sent a brief note to the Bryn Mawr community with the sad news. Today, McAuliffe sent the below message, which includes details about a life celebration that's being held Thursday, Sept. 20, from 7 -9 p.m. at Boyd Horrox Funeral Home in Norristown. A viewing will be held on Friday, Sept. 21 from 9:30 to 10:20, followed by a funeral mass at 10:30 a.m., at St. Francis of Assisi in Norristown.
The community is invited to share their remembrances of Professor Kilbride on the College's Facebook page.

Dear Members of the Bryn Mawr Community,
Yesterday I wrote to share the sad news that Philip Kilbride, Professor of Anthropology, passed away on Saturday, 15 September 2012. Today I would like to convey the esteem of a few of Phil's colleagues and to alert the community to some details about memorial and funeral arrangements.
Phil earned his B.S. at Millersville State College, an M.A. from Pennsylvania State University, and a Ph.D. from the University of Missouri. Phil came to Bryn Mawr in 1969 as a Lecturer of Anthropology and was appointed Assistant Professor of Anthropology in the following year. He served as chair of the department from 1977-1981 and in 1982 was promoted to the rank of Professor. Phil was the Mary Hale Chase Chair in the Social Sciences and Social Work and Social Research from 1996-2008 and served two more terms as department chair, 1995-2000 and 2004-2007. He served two terms as a member of the Committee on Appointments and was a founding member of the Bi-College Africana Studies Program. In spring 2008, Phil was a Visiting Fulbright Professor in the Department of Social Anthropology, Faculty of Philosophy, at the University of Pardubice in the Czech Republic.
At Bryn Mawr, Phil's courses included offerings like Introduction to Cultural Anthropology, The History of Anthropological Theory, Childhood in the African Experience, and Cultural Perspectives on Ethnic Identity in the Post Famine Irish Diaspora. His teaching also ranged from first-year seminars to dissertation direction. He supervised ten Ph.D. theses and 11 master's theses. Phil is the author of seven books, including the recently published second edition of Plural Marriage For Our Times: A Reinvented Option? Phil is the founder of and former academic advisor to the University of Nairobi Exchange Program, which has sponsored many Bryn Mawr students since its inception in 1996.
According to his colleague, Rick Davis in Anthropology, "Phil was an exceptional field worker in anthropology; he lived in Kenya and Uganda over many decades. He was broadly trained and was devoted to anthropology. He was always thinking of new projects and collaborations – almost all of which came to fruition and will be a lasting legacy. Most of all, we miss our friend and colleague, his bright optimism, generosity of spirit, and his engaging dialogues."
Mary Osirim has characterized Phil as an inspiring friend and colleague: "As a dedicated Africanist anthropologist, Phil was a trailblazer in bringing African Studies to Bryn Mawr. Before we had the Africana Studies Program, he, along with Bob Washington, introduced students to the joys of conducting fieldwork in Kenya. He is one of the greatest champions of Africana Studies with whom I have ever had the pleasure of working. Building on his many years examining marriage and family in sub-Saharan Africa and the United States, his most recent edition of Plural Marriage for our Times is a path breaking comparative work that gives us much to consider as we strive to recognize and strengthen the diversity of family forms in the U.S. I already miss my many engaging conversations with him. It was an honor and a privilege to have known him."
The chair of the Anthropology department, Melissa Pashigian, remembers Phil as a: "renowned scholar of plural marriage and a colleague with a generous spirit and keen mind, who never ceased to ask interesting questions about human behavior and culture. He was a pleasure to teach with, and had a talent for infusing humor into the classroom through vivid examples. A consummate fieldworker, Phil repeatedly returned to his field sites throughout his career and developed new projects, which came to fruition in his numerous publications. He will be dearly missed."
Enrique Sacerio-Garí says: "Phil was my closest friend at the College. We walked and talked around campus and our neighborhoods for over thirty years. I will never forget our conversations, his sincere simplicity and thoughtful kindness, his wisdom. Together we considered and reconsidered our research, issues of cultural differences and the unity of humankind. We talked about our families, religion, politics and sports. Phil was a man of profound religious faith. Our last conversation, at Bryn Mawr Hospital, was about Obama, brotherhood, and the mystery of the Virgin of Guadalupe's eyes."
Phil is survived by his daughters, Candice M. Kilbride and Natalie Wagaki Kilbride, his son Roy Nderitu Kilbride, and his wife Marrion Wathuti Kilbride.
Family and friends will honor Phil at a Life Celebration on Thursday, 20 September, 7:00 – 9:00 pm at Boyd Horrox Funeral Home in Norristown and at a viewing and funeral mass on Friday, 21 September 2012, 9:30-10:20 and 10:30 am, respectively, at St. Francis of Assisi in Norristown.
Phil's colleagues in Africana Studies and the College are planning an event in his honor for spring 2013.
Yours sincerely,
Jane McAuliffe
President
Comments Off

on Bryn Mawr Mourns the Passing of Esteemed Professor of Anthropology Philip Kilbride