Athletic department officials at Bryn Mawr College unveiled a brand new online home for Owl Athletics just in time for the start of the 2012-2013 athletic year.
"The newly designed site will enable us to connect more effectively with prospective student-athletes, parents, alumnae, and members of the Bryn Mawr community, and will enhance our efforts to represent the many academic and athletic achievements of our student athletes. The site will also be the home for all physical education and fitness news and programing," wrote Director of Athletics and Physical Education Kathy Tierney in an email to the campus community.
Bryn Mawr teamed-up with PrestoSports, a Maryland-based company throughout the summer to launch the new, redesigned, and remastered site before the start of the academic year. The new site will also serve as the new home for the departments' robust physical education and recreation programs.
The updated website features a video player, user-friendly navigation, larger story pictures, updated photos and multimedia content, live stats, and video for selected home contests this year and all home contest next year. There will also be a new mobile site for viewing everything Bryn Mawr Athletics on your mobile or wireless devices.
"I would like to acknowledge the hard work and leadership of Jacob Mullins, assistant athletic director and sports information director, who coordinated the project with campus partners," wrote Tierney in her email announcing the launch of the site. "A special thanks to Tracy Kellmer, Vince Patone, Juliana Perry, Marci Scheuing, and student assistants Rachel Rivenburg and Kelsey Harris for their hard work and expertise."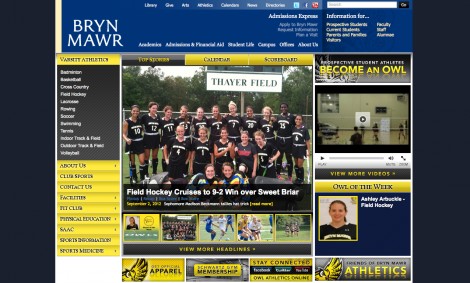 Comments Off

on Athletics Unveils New Website Design