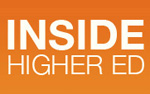 In the Inside Higher Ed article "Online Learning and Liberal Arts Colleges," reporter Steve Kolowich focuses on initiatives at Bryn Mawr and extensively quotes Provost Kim Cassidy and Instructional Technologist Jennifer Spohrer.
From the article:
"Bryn Mawr's foray into using online course modules hints at the online learning tools that might have a place in the liberal arts. Joey King, the president of the National Institute for Technology in Liberal Education, had not heard of any cases where liberal arts professors were integrating OLI modules or similar technology into their syllabuses. But he said that Bryn Mawr's leadership and pledge to support similar projects at peer colleges might catalyze the spread of new, 'blended' approaches in that sector."
"'In this community it's kind of the norm that somebody will take the lead and just do it,' says King. 'Once it's easy, people find it more compelling as far as picking it up at other institutions.'"
For more on Bryn Mawr's use of "blended learning" that combines online work and a traditional classroom experience, read this Bryn Mawr Now article.
Comments Off

on Inside Higher Ed Highlights Bryn Mawr's Leadership in Blending Online Learning and the Liberal Arts Classroom