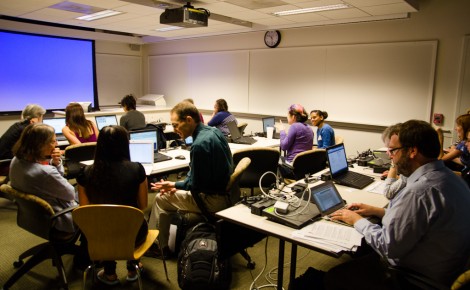 More than 80 representatives from 31 educational institutions gathered on campus earlier this month to reflect on a year-long experiment Bryn Mawr College led on the use of blended learning in a liberal-arts environment.
Last spring, Bryn Mawr received a $250,000 grant from the Next Generation Learning Challenges initiative, to introduce open-source courseware modules into gateway science and math courses, in order to study the impact that a blended (combination of computer-based and classroom learning) approach might have on student learning outcomes and college completion in these fields.
As part of the grant, Bryn Mawr shared its findings and grant-funded resources—including technical support—with the 39 other liberal-arts colleges who are partners on the grant. This was the third time representatives from the colleges involved with the project gathered to discuss topics such as the courseware faculty used and faculty and student experiences with the blended learning approach.
After welcoming remarks from Bryn Mawr President Jane McAuliffe, conference attendees heard a project overview and preliminary research findings from Bryn Mawr Provost Kim Cassidy, the principal investigator on the project, and Instructional Technologist Jennifer Spohrer, the project coordinator.
During the conference, participants had the opportunity to discuss various aspects of blended learning with Bryn Mawr faculty who taught courses as part of the study and students who took those courses, and see hands-on demonstrations of available resources.
"When we surveyed Bryn Mawr faculty who taught courses in the fall, all planned to continue using a blended approach in some form, and 70 percent of their students rated the computer-based elements somewhat or very helpful," says Spohrer. "So I think if anything, our experiment has shown that blended learning can support the kind of individualized, face-to-face and highly collaborative teaching and learning that liberal arts faculty and students value.
"Throughout this project, we've been really impressed by the interest and enthusiasm shown by liberal arts faculty, students, and administrators. Fourteen Bryn Mawr faculty volunteered to develop and teach blended courses as part of the study, instead of the four that we had originally anticipated," Spohrer adds.
Original partner colleges involved with this project are Allegheny, Amherst, Bard, Barnard, Bates, Bowdoin, Colgate, Connecticut, Franklin and Marshall, Grinnell, Hamilton, Haverford, Hobart and William Smith, Holy Cross, Ithaca, Kalamazoo, Lafayette, Macalester, Middlebury, Mount Holyoke, Oberlin, Pomona, Saint Olaf, Skidmore, Smith, Swarthmore, Trinity, Union, Vassar, Wellesley, Wesleyan, Wheaton, Whitman, Whittier, and Williams. Albright, Colorado College, Kenyon, and Wake Forest have joined the project since the grant was awarded.
Findings were shared with the higher education community more broadly through the website and project blog, webinars, and presentations given at a series of conferences.
Comments Off

on Educators Gather at Bryn Mawr to Discuss Courses That Blend Online Learning and the Traditional Classroom