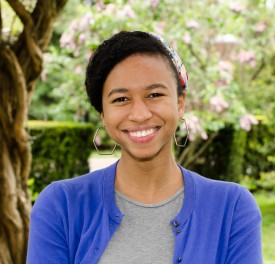 Sherella Williams '12 has accepted a Fulbright Teaching Assistantship to teach in Linz, Austria. Williams, who is an English major with a minor in German, began studying German in middle school—but it wasn't until Bryn Mawr that she truly fell in love with the language and Germanic literature.
"I didn't come to Bryn Mawr expecting to minor in German; I was just using it to pass the language requirement," Williams says. "Then, during the first semester of my sophomore year, I didn't take a German course and I felt like something was missing from my academic life. For me, German was like getting to know a person no one quite understood."
Williams grew up in Cheltenham, Pa., in a household heavily influenced by her family's Hispanic and West Indian roots. At first her parents were skeptical of her decision to devote so much of her college time to study of a foreign language, particularly one to which they had no ties, but eventually they came around.
"With every paper written, every story or novel read, and every exam successfully completed, my family came to admire and even support my passion for the language. But more important, my own confidence continued to strengthen," says Williams.
During her junior year abroad, Williams traveled to Berlin, where she studied at Humboldt University and became a student volunteer with the Berlin branch of UNICEF.
Williams' work at UNICEF included creating and giving PowerPoint presentations to help young German students understand global issues. The presentation reflected on challenges such as poverty and violence that other countries face, but that children in Berlin rarely have to worry about.
With a presentation partner from her study-abroad program, Williams gave her presentation to 8- and 9-year-olds in German elementary schools.  It was through this work and volunteering done at schools in the United States that Williams developed an interest in education.
"Through teaching, one has the opportunity to broaden horizons and create new possibilities for those willing and determined to make an effort," says Williams. "Needless to say, I enjoy passing down knowledge and experience as much as I enjoy gaining it, and I find that working with children in schools is a wonderful opportunity to achieve such a valuable two-way intellectual exchange."
Williams is undecided what her next step will be after her teaching assistantship. "If I enjoy my teaching experience, I may continue on that path.  I'm not 100 percent certain, but I do look forward to finding out," she says.
See the full list of profiles of Bryn Mawr students who received Fulbright grants in 2012.
Comments Off

on Sherella Williams '12 Receives Fulbright Teaching Assistantship to Austria