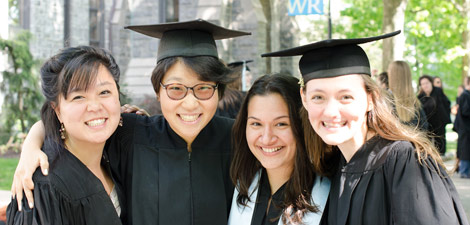 Updated May 14, 2012.
Bryn Mawr's Class of 2012—308 undergraduate students from throughout the United States and the world—were graduated at 2 p.m. on Saturday, May 12, on Merion Green. The College's Graduate School of Arts and Sciences granted 14 doctorates and 16 master's degrees. Bryn Mawr's Graduate School of Social Work and Social Research awarded 105 degrees as well.
Former President of Ireland Mary Robinson gave the Commencement address.
For complete details and information about the weekend's events, go to the convocation and commencement homepage.
Among those graduating were a number of academic- award winners who have been featured in Bryn Mawr Now, including Rhodes Scholar Nina R. W. Cohen and the College's Fulbright grant recipients.
A number of other graduating seniors shared their post-graduation plans with Bryn Mawr Now. Here's a sampling:
Continuing academic study is Lauren Smith, who will pursue a master's degree in history at University College London's School of Slavonic and East European Studies with the intention of entering a Ph.D. program in European history at a U.K. university. Radha Venkatraman will also eventually travel to England to continue her studies, but she plans to spend a year working with Asia Society in Mumbai, India, before moving on to the London School of Economics.
Mawrters staying in the United States but headed for warmer climes as they continue their studies include Katie Link, who is graduating with honors from the math department and will head down to North Carolina State University to work toward a Ph.D. in applied mathematics. Biology major Diana Vergara is returning to her home state of Florida to attend the University of South Florida for a master's in secondary education, with a concentration in science education.

Do you have postgraduation plans that we missed?
Share them on the BMC Facebook page
New England-bound Mawrters include Jessica Nelson, who has been accepted to an M.A./Ph.D. program in the anthropology department at Brown University, where she'll be studying historical archaeology. Katie Merrill will pursue a master's in exercise and sport studies at Smith. Margot Krouwer is doing a post-bac in computer science at Tufts.
Mary Zaborskis will still be able to hop on the regional rail and visit Bryn Mawr from the University of Pennsylvania, where she'll pursue a Ph.D. in English. Other Mawrters staying local include Addie Ansell, Lea Hane, Emily Kirchner, Mikecia Witherspoon, and Sue Yee Chen, who will work with nonprofits as part of the Philly Fellows program. This is the largest group of Bryn Mawr students ever accepted into the program.
Others planning to work at non-profits include Isel Otero-Vera, who will be working in India for the organization Profugo. Mia Chen and Winne Hien have accepted offers from Princeton-in-Asia. Yong Jung Cho will be working for Green Corps.
Students taking part in Teach for America include Sarah Gzesh and Tina Hu, who will both teach in the San Francisco Bay Area, and Praise Agu, who will be teaching in Atlanta. Liana Donahue will also be in the classroom as a New York City Teaching Fellow.
Aparajita Bhattacharyya will be returning to India as a Legislative Aide to Member of Parliament Fellow. Priya Saxena will also be involved with government and policy. She's accepted a job at the Urban Institute.
A number of students parlayed internship experiences into post-graduation opportunities, including Isabella Warren-Mohr, who accepted a position with the architecture firm Voith & Mactavish; Wanda Lee, who will be working in the investment-banking division at Janney Montgomery Scott; and Annafi Wahed, who will be in the financial institution specialist rotational program at the FDIC. After interning under their director of public policy for over a year, Katherine Lewis has been hired by the nonprofit organization Women's Way.
Other Mawrters pursuing careers in business and finance include Lingyi Sun, who will enter Bank of America's management training program, and Malli Gupta, who will work at PricewaterhouseCoopers as an associate in its health-care-technology advisory practice.
Students going on to medical school include Maggie Ahrens, Temple; Miranda Gordon-Zigel, University of Maryland; Anna Jaffe, The University of Rochester School of Medicine and Dentistry; and Elana Peck, New York Medical College. Swapnima Shrestha will be attending dental school at the University of Pennsylvania.
Anassa Kata to all!
Comments Off

on 2012 Graduates: Snapshot of a Group That's Going Places