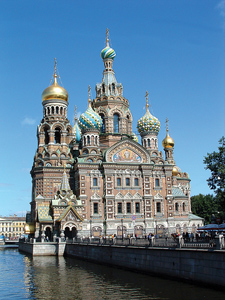 Bryn Mawr students Marina Kec '12 and Brandy Thoma '12 have spent the past nine months immersed in Russian culture as part of a rigorous program available only at a few select colleges and universities.
The Russian Flagship Program is an academic track open to all Tri-Co undergraduates who wish to attain superior Russian-language proficiency through an intensive training program tailored to their professional and academic interests.
After completing beginning-level  Russian courses at Bryn Mawr, each student in the program spends either a summer, a semester, or the junior year abroad in Russia, and the program concludes with an academic year spent at St. Petersburg State University for a capstone experience. During this time students also participate in internships related to their career interests.
"Internships give Flagship students the opportunity to get out of the classroom and use their Russian-language skills in a 'real' context. These internship assignments grew out of the Language Flagship's goal to create global professionals," says Sharon Bain, co-director of the program with Associate Professor of Russian Timothy Harte.
The Russian Language Flagship at Bryn Mawr was created under the auspices of the Defense Language and National Security Education Office Program (formerly the National Security Education Program) to address the critical need for U.S. professionals and government employees who are able to speak Russian at the highest levels of functional proficiency. Russian Flagship Programs are also established at Portland State University, UCLA, and the University of Wisconsin-Madison.
While the program is demanding, it is structured in such a way that students don't have to major in Russian to participate.
Thoma is a French major who enrolled in the program after initially planning to do a double major in both languages.
"I really appreciated the fact that through this program I was able to become highly proficient in Russian while focusing on French as my major," says Thoma.
While in St. Petersburg, Thoma has been working at Azbooka Publishers, where she translates information about books and authors from English to Russian.
Kec, a Russian major and dance minor, is interning at the Boris Eifman State Academy of Ballet, where her primary responsibility is writing and translating performance reviews.
"I have always dreamed of building a career in the arts, especially in relation to dance, and the Flagship program has introduced me to ways I can realize this goal, without compromising other academic pursuits," Kec says.
After completing the Flagship program, Thoma will attend graduate school at St. Hugh's College in Oxford to study linguistics while Kec plans to return to the Philadelphia area in search of employment and dance-performance opportunities.
Bryn Mawr students Alex Kohut '13 and Chantal Taylor '13 have been accepted into the Russian Overseas Flagship Program for 2012.
For more information on Bryn Mawr's Russian Flagship Program, contact Harte at tharte@brynmawr.edu or Bain at sbain@brynmawr.edu.
Bryn Mawr's Russian department, established in 1943, is nationally and internationally renowned. Bryn Mawr's Russian Department was instrumental in developing the curriculum of the National Flagship Language Programs, and Bryn Mawr now has 23 students participating in the program.
Comments Off

on Bryn Mawr Students Study in St. Petersburg as Part of Russian Flagship Program