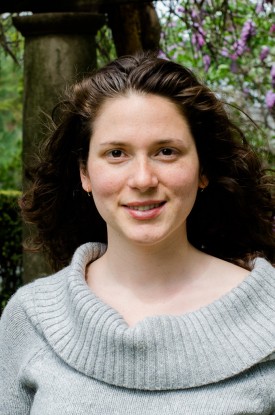 Archaeology Ph.D. candidate Johanna Best has received a Fulbright Research Grant to Greece, where she will continue her dissertation on sacred spaces along roadways in ancient Attica.
"The Fulbright has made my dissertation work possible by allowing me to see the sites that I am studying with my own eyes," she says. "It provides me with the opportunity to take the research that I have done in the library and put it into its real context — I will understand Attic topography, the relationships between sites, and the routes of roadways far better when I actually get to visit them in person."
During her fieldwork in Greece, Best aims to collect evidence of sacred spaces along roadways that existed between the Archaic and the Early Roman periods and examine how they may have fit into the daily religious experiences of individuals. In doing so, she hopes to understand how these sites may have looked, which deities were commonly honored, who visited the sites, and what they might have done while there.
"I wish to explore roadside religious spaces because they exist 'in-between' and would have been accessible and visible to residents, traders, soldiers, and travelers," she says. "Since these sites were accessible to people of all social classes, they may be able to address questions of daily religious practices and the more elusive phenomenon of individual religious experiences."
During her time in Greece, Best will be in residence at the American School of Classical Studies at Athens.  She has identified 120 possible sites to visit, and her list continues to expand. She also plans to research Christian Orthodox shrines as a modern parallel to ancient roadside religious spaces.
"As a project that both will contribute to our knowledge of ancient Greek religious spaces and belief, and also will create links with modern Greek religious practices, my research fits well into the Fulbright Program's mission to create lasting connections and scholarly cooperation between American citizens and the global community," Best says.
Best's interest in archaeology developed early on in life, from digging up nineteenth-century belongings in her New England backyard in elementary school, to excavating a sanctuary site on the tiny Greek island of Despotiko following her undergraduate study at Earlham College. Best was also involved with Bryn Mawr's Ayia Sotira Excavation site in Greece for four seasons while earning her masters at Bryn Mawr.
"At Despotiko and at Ayia Sotira I learned about the precision required in excavating and I experienced for the first time the excitement of uncovering—after thousands of years—objects that were deeply meaningful to people long ago," she says.
Upon returning to the United States, Best plans to complete her dissertation at Bryn Mawr in the academic year 2013- 2014.  She then hopes to find a career as a college professor or a museum educator.
Click here for profiles of other Bryn Mawr students who received Fulbright grants in 2012.
Comments Off

on Johanna Best, Ph.D. Candidate, Receives Fulbright Research Grant to Greece