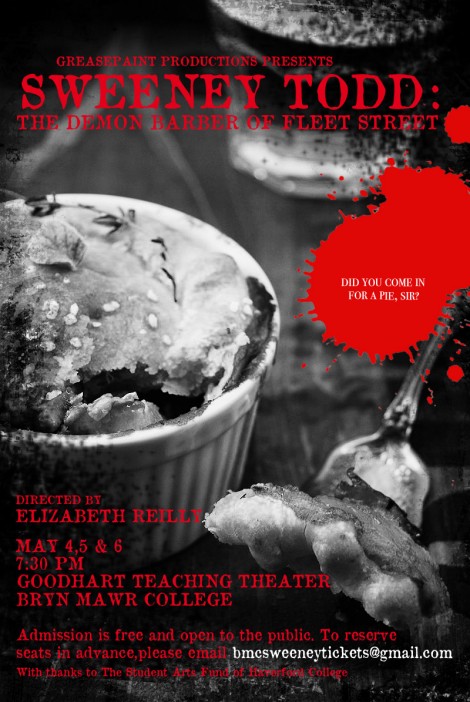 Greasepaint, the student-run Bi-College musical theater company, will perform Stephen Sondheim's Tony Award-winning "Sweeney Todd: The Demon Barber of Fleet Street" in the Goodhart Teaching Theater on May 4, 5, and 6 at 7:30 p.m. Admission is free.
Sweeney Todd is a 1979 musical thriller set in 19th century London and tells the story of Benjamin Barker, who returns home after 15 years of false imprisonment in Australia. He assumes the name Sweeney Todd and embarks on a mission of revenge against the judge who wronged him. Sweeney re-opens his barbershop above Mrs. Lovett's meat pie bakery and the two team up for some truly warped and "sweet" vengeance.
Elizabeth Reilly '14 directs "Sweeney Todd."
"The music is absolutely brilliant and I still get chills after listening to the 'Ballad of Sweeney Todd'," she says on her motivations for directing. "Bi-Co students have worked extremely hard on this production and I think this will shine through in performances."
Henry Bradford, Haverford '15, plays the tormented lead role.
"Sweeney is a man who believes he's had everything taken away from him; it's an overwhelmingly bitter sort of freedom," he says, adding, "above all, I think 'Sweeney Todd' as a show is about the struggle and emptiness that comes from being in love with the idea of something (or someone) to the point of obsession, and it's manifested in every single one of the characters, perhaps most of all in Sweeney himself."
The Demon Barber's partner in crime, Mrs. Lovett, is played by Bryn Mawr's Hannah Bech '15.
On playing the slightly unhinged pie-maker, Bech says, "It's been amazing to tackle a character of such complexity. Mrs. Lovett is a dark and troubled character, but she doesn't even realize that. She's too wrapped up in simple survival to realize the true consequences of her actions."
For more information, see the show's Facebook Page.
— Ellie Rhymer '12
Comments Off

on Greasepaint Performs "Sweeney Todd" on May 4, 5, and 6 at Goodhart Teaching Theater