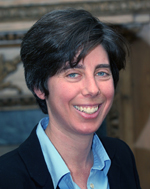 History of Art Professor Lisa Saltzman has received a 2012 Guggenheim Fellowship, announced the John Simon Guggenheim Memorial Foundation last week.
A total of 181 scholars, artists, and scientists from an application field of almost 3,000 were selected for the prestigious fellowship. Fellowships were given in 54 disciplines. Saltzman was the lone recipient in the "Fine Arts Research" category.
The Guggenheim Fellowship provides funding to allow those selected the time to focus on their research or other creative work.
In addition to her Guggenheim Fellowship, Saltzman was recently named a fellow at the Sterling and Francine Clark Art Institute and the Oakley Humanities Center at Williams College, where she will be in residence in 2012-13.  There, she will finish writing a new book that re-imagines the history of photography, with a particular focus on its earliest form, the daguerreotype, as a means of understanding the historical inheritance of the medium and its "afterlife" in contemporary art and culture. The book, Daguerreotypes: Fugitive Subjects, Contemporary Objects, is under advance contract with the University of Chicago Press.
At Bryn Mawr, Saltzman teaches undergraduate and graduate courses in modern and contemporary art and theory, and from 2003-2009 she served as the director of the Center for Visual Culture. She is the author of Anselm Kiefer and Art after Auschwitz and Making Memory Matter: Strategies of Remembrance in Contemporary Art.  She is also the co-editor, with Eric Rosenberg, of Trauma and Visuality in Modernity.
Saltzman received her bachelor's degree from Princeton in 1988 and her Ph.D. from Harvard in 1994.  In 2002-03, she was a fellow at the Radcliffe Institute of Advanced Study.
Since its establishment in 1925, the John Simon Guggenheim Foundation has granted over $298 million in fellowships to more than 17,300 individuals. Scores of Nobel, Pulitzer, and other prize winners are listed among the rolls of the Foundation's Fellows.
For more information on the Fellows and their projects, visit the Foundation's website.
For more on Bryn Mawr's Department of the History of Art, visit the department's homepage.
Comments Off

on History of Art Professor Lisa Saltzman Receives 2012 Guggenheim Fellowship