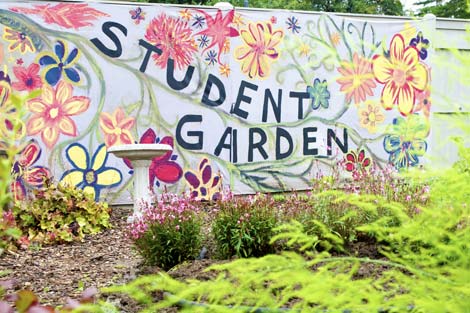 Bryn Mawr has much to celebrate on Earth Day this Sunday, according to the College's Environmental Sustainability Leadership Group. The ESLG, chaired by Professor of Mathematics Victor Donnay and composed of representatives from the faculty, the student body, the president's office and several key offices on campus, was formed to help implement the Climate Action Plan the College created as part of the American College and University Presidents' Climate Commitment in 2010.
The plan commits the College to a 10-percent reduction of carbon emissions (from a 2008 baseline) by 2020. It is a challenging goal, members of the ESLG point out, particularly because Bryn Mawr's 2008 baseline carbon-emissions figure was already low relative to its peers. The College began a serious campaign of energy reduction more than a decade ago and had achieved some impressive results by 2006.
Reducing carbon emissions a further 10 percent will require not only changes in operating procedure, but community participation and awareness, says Donnay.
The importance of community participation in energy-conservation efforts is reflected in the ESLG's draft mission statement, which includes a commitment to "educate all members of the College community (students, staff, faculty) to become knowledgeable about issues of environmental sustainability."
The educational aspect of the group's work is critical, says Donnay, "because it is important to incorporate environmental sustainability into the core mission of the College."
"A lot of our efforts over the past year have focused on community outreach and education,"outgoing Bryn Mawr Greens President Karen Leitner noted in a recent meeting of the ESLG.
ESLG members Victor Donnay and Jim McGaffin, along with students Johannah Cordon Hill and Hillary Tervet, students in the current 360° course cluster Perspectives on Sustainability, have been meeting with members of the campus community on a building-by-building basis to introduce the Climate Action Plan and discuss the history and the future of environmental-sustainability measures and awareness on campus.
"People have been incredibly receptive at these meetings," says McGaffin, a mechanical engineer who has served as Facilities Services' point person in conservation efforts. "At nearly every meeting, we've learned about some kind of environmental-sustainability initiative or effort that we weren't aware of."
The ESLG also recently asked a number of campus organizations and offices that have expressed interest in environmental sustainability to list their own efforts toward greening Bryn Mawr over the past year. A few highlights, including the ESLG's own efforts, are listed below.
Selected Environmental-Sustainability Initiatives and Accomplishments at Bryn Mawr, 2011-'12 Academic Year
• Environmental Studies became a Tri-College minor.
•  A 360° course cluster titled "Perspectives on Sustainability" is being offered this semester. A lecture series associated with the  360° drew audiences from around campus and sparked considerable discussion of environmental issues; community-outreach efforts associated with the Praxis element of the course cluster include a major environmental-awareness campaign on campus.
•  Professor of Mathematics Victor Donnay will offer "Math and Sustainability: Helping to Make a Green Ribbon School," at Bryn Mawr's 2012 Summer Insititutes for K-12 Teachers.
• Acting on a plenary resolution that passed last fall, the SGA's Sustainable Food Committee conducted a thorough feasibility study of a comprehensive composting plan for the College's dining halls. A three-day trial in which waste was weighed each day showed the average waste per dining hall per day to be around 325 lbs. Working with Facilities Services and Bi-Co Dining Services, the committee then conducted a two-week trial with the College's waste-collection service to determine whether Bryn Mawr's and Haverford's combined three dining halls produce enough compost to meet the contractor's minimum requirements for compost collection. Results are expected soon.
• In conjunction with students in a course taught by Environmental Studies Director Ellen Stroud, the Student Landscaping Representatives Lydia Bello '12 and Stephanie Kim '12 worked with Grounds Director Ed Harman to create a campus tree tour, part of an educational effort focusing on the importance of plant life to the campus environment.
• The Bryn Mawr Greens' initiatives included a number of educational events as well as a second season of community gardening on campus.
• In addition to its role in the Sustainable Food Committee's composting trials, Bryn Mawr Dining Services completed the transition to trayless service, a move designed to reduce food waste and conserve energy that would otherwise be used to wash trays. BMCDS continues to cultivate local food sources and hosts an annual dinner devoted to educating the campus community about local food producers; BMCDS staffers are working with the Alumnae Association to produce a local food, beer, and wine festival for this year's Reunion.
•  Transportation purchased two vehicles—a Honda Civic Sedan for the College's rental fleet and a cargo van for Multimedia Services—that operate on compressed natural gas, as does a Blue Bus purchased earlier. The difference in price between the CNG-powered vehicles and gasoline-powered vehicles was funded by a grant from the Commonwealth of Pennsylvania.
• To encourage conservation of paper, Information Services implemented a printing quota of 1,200 pages per student per semester.
• Among the many events devoted to raising awareness of environmental issues were the films, lectures, and meals associated with Food Week, a Tri-College effort to which a number of campus organizations and offices contributed.
• The newly formed Earth Justice League has established relationships with student organizations focused on environmental justice at a number of nearby colleges and universities, participated in a number of direct actions, and hosted an activism workshop at Bryn Mawr.
Comments Off

on As Earth Day Approaches, Campus Community Reports on a Multitude of Greening Efforts