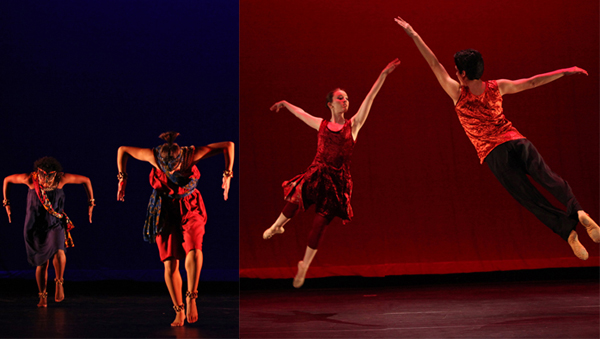 Over 40 Bryn Mawr and Haverford dancers will take to the stage in Goodhart Theater on April 20 and 21 to perform dance works by Bryn Mawr dance faculty and noted Philadelphia dance artists.
This year's concert will also feature a reconstruction of Psalm, a 1967 work by master choreographer José Limón. Students worked with Ryoko Kudo, a dancer for nearly a decade with the José Limón Dance Company and a reconstructor from the José Limón Foundation. Limón created Psalm in 1967 inspired by Andre Schwarz-Bart's post-Holocaust novel The Last of the Just, which, in turn, drew on the ancient Jewish belief in those who are born in each generation to take on the burden of the world's suffering. Restaged in 2000 by Carla Maxwell to music of Jon Magnussen, this powerful work still embodies, in Limón's own words, an "evocation of the heroic power of the human spirit."
The dancers will also perform in the works of Myra Bazell, co-director of SCRAP Performance Group; Linda Caruso Haviland, director of Bryn Mawr's Dance Program; Heidi Cruz, a former leading dancer with the Pennsylvania Ballet and Ballet X and co-artistic director of DanceSpora; Rev. Nia Eubanks-Dixon, who danced with Urban Bush Women; Chuck Davis' African American Dance Ensemble; Philadanco II; Dunya West African Dance Company; and Clyde Evans, Jr., lead dancer with Rennie Harris Puremovement for nine years and founder and artistic director of Chosen Dance Company.
Performances will be held at 7:30 p.m. and followed by a reception.  The shows are free and open to the public.  For more information, call 610-526-5210.
Comments Off

on Bryn Mawr, Haverford Dancers Take the Stage for Spring Concert Featuring Reconstruction of José Limón Work