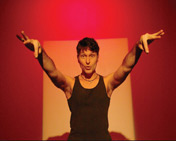 Celebrated performance artist Tim Miller, whose creative work as a performer and writer explores the artistic, spiritual and political topography of his identity as a gay man, will begin a weeklong residency at Bryn Mawr on Monday, April 16, to lead a performance workshop.
Two public events—a public lecture and performance by Miller himself as well as an evening of performances developed by participants in the workshop—will be offered at Bryn Mawr during this week. Both events are free and open to the public.
Performance! Body! Self! A Lecture (With Some Performance) by Tim Miller
Thursday, April 19, 4:30 to 6 p.m.
Hepburn Teaching Theater, Goodhart Hall


Tim Miller will speak (and perform some) about the role performance plays in constellating identity. Known for his charged performance work, which takes up the most challenging social texts of our time, Miller will share fierce and funny performance material as well as speak about how performance can be used to embolden communities and connect people with one another. Miller promises a highly stimulating and opinionated rant with performance about performance, identity, the culture wars, and queer strategies for the future.

Speak the Truth Even If Your Voice Shakes: A Tim Miller Workshop Performance
Friday, April 20, 5 p.m.
Hepburn Teaching Theater, Goodhart Hall
Original solo performance pieces presented by participants in Tim Miller's weeklong performance workshop at Bryn Mawr College. 

"This weeklong performance workshop I am leading here at BMC is a charged exploration into creating original performance work from our lives, dreams, obsessions, social visions, memories and desires. It is a great pleasure and inspiration to create our community for a short time and jump into this original ensemble work exploring this time we are in," says Miller.
Miller's visit to the Philadelphia region has generated significant interest from the regional and national media, in the wake of a controversy that followed Villanova University's decision to rescind its invitation to Miller to conduct a workshop on the Villanova campus. Bryn Mawr Professor of History and Gender and Sexuality Program Coordinator Sharon Ullman worked with Bryn Mawr's theater program and Conferences and Events Office to offer Bryn Mawr as an alternative venue; Ullman and Director of Theater Mark Lord have both been quoted in stories about Miller in The Philadelphia Inquirer and other venues.
Comments Off

on Tim Miller Residency to Include Two Public Performances