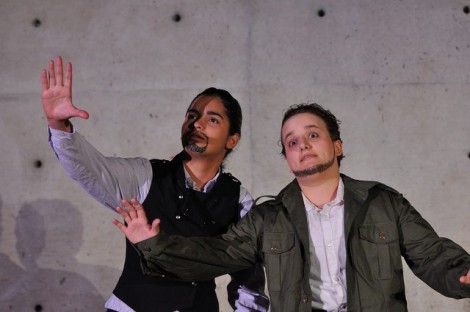 The Shakespeare Performance Troupe will present a double feature this weekend as they perform Shakespeare's Othello and George Bernard Shaw's Pygmalion. Othello will be performed in matinees for two weekends at 1 p.m. in Taft Garden on April 14, 15, 20, and 21. The performances of Pygmalion will  be at 7:30 p.m. in Rhoads Hall this week only, April 12-15. Admission for both shows is free.
Shakespeare Performance Troupe is an entirely student-run theater group dedicated to performing the works of Shakespeare and related canon. With membership numbering around 40, it is the largest drama club at Bryn Mawr and one of the largest clubs on campus. Each year, the club votes on show proposals from group members who wish to direct. Recent productions have included Shakespeare's Love's Labours Lost and Much Ado About Nothing, Alan Bennett's The History Boys, and a student-written sketch comedy: Significantly Sexier Shakespeare.
In an ironic reversal of the once strict rule forbidding Elizabethan women from performing on the stage, the troupe presents productions acted by a cast of entirely Bryn Mawr students. Actors learn to "perform male" during the semesterly "manshop," a workshop run by the more experienced members of the troupe on how to sit, stand, speak, gesture, and walk like a man onstage. The makeup of the group has also resulted in some interesting gender-bent productions including a production of Romeo and Juliet in which Romeo was played as a woman, and The Tempest in which Prospero's feud with his brother, Antonio, was changed to a feud with his sister, Antonia.
Directors Kat Littrell '14 (Othello) and Kelsey Power '12 (Pygmalion) on their productions:
In the spirit of Shakespeare's original performance space, the Globe, we have moved Othello into the outdoors. We have professionally choreographed stage combat for all of our fights. It will be an intense, intimate, and interactive performance for the audience and the actors.
–Littrell
This is a story I grew up with and I imagine a lot of other students did as well. I love that every time I hear or read the story it comes across differently because I am different. Eliza's lament of "Where am I to go, what am I to do, what's to become of me?" gives me chills because, as a senior, I am in the same predicament. I think those coming to see this play will be surprised at how true it rings and how relevant it is to this time in our lives.
–Power
For more information on the shows, visit the calendar pages for Othello and Pygmalion.
— Ellie Rhymer '12
Comments Off

on Students Shine In Shakespeare Performance Troupe: Othello and Pygmalion Staged This Week and Next