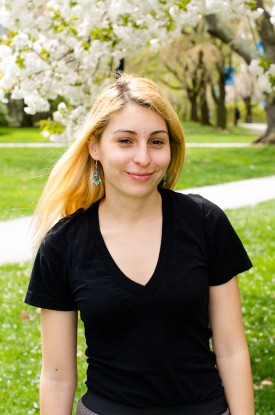 Bryn Mawr chemistry major Anna Melker '12, recipient of a 2012-13 Fulbright Research Grant, will travel  to Sweden's Uppsala University this fall in search of what she calls the "holy grail" of clean energy.
"I chose to apply for the Fulbright so I could continue my study of hydrogen fuel research, the 'holy grail' of clean energy," says Melker. "Sweden is unique in its excellent funding of alternative energy science, and Uppsala University is at the forefront of hydrogen fuel research."
At Bryn Mawr, Melker is conducting research in photocatalytic hydrogen fuel production under the direction of Assistant Professor of Chemistry Jonas Goldsmith.
Researchers looking into photocatalytic hydrogen fuel production are examining ways hydrogen–which can be used as a power source–can be made using solar energy, water and a catalyst.
Melker's senior thesis is on the synthesis of Ruthenium and Iridium photocatalysts and Cobalt and Rhodium electron relay molecules and their subsequent hydrogen production capacities.
"Having Anna in my research group has been great. She takes initiative and tackles new challenges with gusto. The opportunity to work with bright and motivated undergraduates like Anna is one of the main factors that drew me to Bryn Mawr College," says Goldsmith.
In addition to her research with Goldsmith, Melker spent the summer of 2010 at the University of Massachusetts-Amherst in the lab of Associate Professor Ryan Hayward working on polymer electrolyte membranes, an important component of fuel cells. That work was funded through the National Science Foundation's Research Experiences for Undergraduates Program.
At Uppsala, where she'll work in the lab of Professor Leif Hammarström, Melker will continue to research photocatalysts that can split water into hydrogen and oxygen, work that is similar to her research.
"Photocatalysts are molecules that get excited and lose an electron when exposed to sunlight. This electron can then be transferred to a water molecule to go on to make H2. The scientists at Uppsala use an approach that takes its inspiration from nature to create new photocatalysts," says Melker.
Melker, who will earn a minor in French from Bryn Mawr, is also excited to learn Swedish and study abroad, and hopes to learn her way around by going on runs through Stockholm and perhaps even competing  in a road race like the all-female 10,000 meters Tjejmilen race held each September in the Djurgarden royal park.
At Bryn Mawr, Melker has been a member of the cross country, indoor, and outdoor track and field teams. In each sport, she served as team captain during her junior and senior years. She has been named to the Centennial Conference Academic Honor Roll eight times, with a ninth spot on the honor roll expected at the end of the current outdoor track season. She has also served as a hall advisor and peer mentor.
After her Fulbright, Melker will begin the chemistry Ph.D. program at the University of California-Santa Barbara.
"I feel very honored to have received this incredible opportunity to do research at one of the best universities in the world," says Melker. "And I am very grateful to my mentors Dr. Goldsmith and Dr. Hayward for showing me how my passion for solving our energy crisis can be put to good use in the lab."
Comments Off

on Anna Melker '12 Continues Her Quest for the "Holy Grail" of Clean Energy With Fulbright Research Grant to Sweden