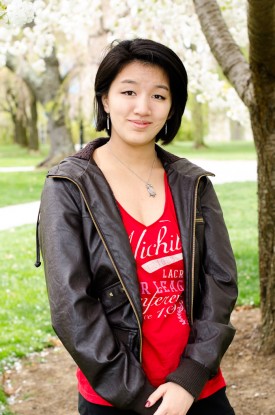 As a Fulbright English Teaching Assistant in South Korea, Andrea Tang '12 will not only be able to pursue her interest in the Korean language and the culture and politics of the area, she'll also have an opportunity to get closer to some of the family she'll leave behind here in the United States.
"Within the East Asian Studies department, I had the opportunity to study the languages, cultures, and histories of China and Japan. After that exposure, I thought the next logical place to go would be Korea, in order to better round out my knowledge of the East Asian region and relations between the countries that comprise it.  I also wanted to get closer with my stepmother and her family, who are Korean, by learning the language and visiting the country," says Tang.
In addition to her duties teaching English, Tang, who is a double major in English and East Asian studies, plans to use her time to study the Korean language, and she hopes to jump-start some potential dissertation research on East Asian soft-power relations.
"I'm really interested in the history and politicization of popular martial arts like taekwondo, which I'm planning to participate in in my free time," says Tang. "My involvement in mixed martial arts at Haverford and taekwondo at Bryn Mawr inspired the topics for my two senior theses in (respectively) English and East Asian Studies, which both deal with themes of violence, post-colonialism, and politics.  I hope I can use that work as a foundation for some of my research in South Korea."
Tang makes her home in New Jersey, but this won't be her first extended visit to East Asia.
Thanks to funding from the Dean's Office and the Haverford Center for Peace and Global Citizenship, Tang got to spend the summer between her sophomore and junior years interning with an education-focused NGO in mainland China, and the subsequent summer working for the U.S. Department of State's foreign-service mission in Taiwan.
"Those experiences gave me some really thorough exposure to teaching and public diplomacy in Asia, and I'd like to continue along those lines through both my work in the classroom and my broader immersion in South Korean society," says Tang.
Tang leaves for South Korea in July. She'll complete a six-week orientation program in the city Goesan, Chungcheongbuk-do, after which she'll find out exactly where she'll be teaching and living.
After completing her Fulbright, Tang hopes to attend Oxford University to pursue a master's degree in modern Chinese studies.
"Before I won the Fulbright, I'd been lucky enough to receive an initial offer from the U.S. Department of Defense to work there for a summer before grad school. Since I'd also been admitted to a master's program in Modern Chinese Studies at Oxford University on a modest partial scholarship, my original plan was to work for the government over the summer, then head to England. Although I can't officially defer my offer of admission, I plan to reapply, and I hope to attend after completing my Fulbright," says Tang.
"When I got the grant, at first I wasn't sure whether to accept right away. After a long process of gleaning advice from my professors, my contacts in government service, and the director of my graduate program at Oxford, I ultimately decided to put everything else on hold and do the Fulbright first. Now that I've made that choice, I'm excited about the opportunities ahead of me and hugely grateful for the tremendous privilege of having them," she adds.
After grad school, Tang says she'd like to return to the United States and go into international affairs, working for either the Department of Defense or the Foreign Service.
Comments Off

on Andrea Tang '12 to Study Korean Language, Culture, and Politics As Fulbright Teaching Assistant in South Korean