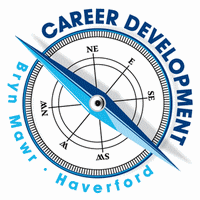 Fifty-one Bryn Mawr students got a taste of the work world this spring break as part of the Extern Program, one of the many opportunities offered through the Bi-College Career Development Office. The Extern Program provides an opportunity for current Bryn Mawr and Haverford students to shadow alumnae/i from either school at their places of work over the winter or spring breaks.
A total of 77 Bryn Mawr and Haverford students externed with 63 different alumnae/i this spring. Shadowing these professionals gives participating students the opportunity to explore work interests and gain insight into various career fields.
Daniele Arad-Neeman '14 externed this spring break at the Penn-Fels Institute of Government, a small graduate program for future leaders of local, state, and national government and those who will run NGOs or other related groups. The Institute is also a private, non-profit research and consulting firm. Arad-Neeman shadowed Executive Director David Thornburgh, Haverford '80, in his day-to-day activities at the Institute.
"I loved the opportunity not only to work on relevant projects, but also to learn from the staff there about running a graduate school and consulting firm," says Arad-Neeman. "In five days, this externship helped shape my future in a way I did not think possible."
In addition to gaining an inside look at various industries and professions, externship participants also receive guidance and mentorship from their externship sponsors.
Darcey Glasser '14 externed this spring break at Just World Books, publisher of public policy and foreign affairs texts, based in Washington, D.C., and Charlottesville, Va.
Glasser shadowed founder Helena Cobban, a parent of a Haverford graduate.
Working alongside Cobban, Glasser was able to experience firsthand the life of a publisher.
"I stayed with her in her D.C. apartment in Georgetown, and traveled from Virginia to D.C. with her on Amtrak," says Glasser of her experience. "Both Ms. Cobban and her husband were extremely sweet, welcoming, generous, and knowledgeable."
Participating in the Extern Program allows students to explore career options in a way that's not just an "internship" but an exploratory commitment that partners real-world experience with professional mentorship. A wide variety of externships are offered year-to-year, including placements in the areas of arts, business, communications, education, law, medicine, and public policy.
The Bryn Mawr and Haverford graduates who hosted externs say that they, too, reap rewards from the experience. Physician Barbara Mackie-Franklin '86 loved spending a week in her Vienna, Va., office with Laura Silla '14, a sophomore from Woodland Park, Colo.
"I loved being able to hear firsthand what's happening on campus now and how current students feel about the College," Mackie-Franklin says. "Laura brought the latest issues of the Bi-Co and the college news with her, and talking with her gave me a fresh perspective."
Mackie-Franklin says she was eager to sponsor an extern because she had benefited from the externship she did as an undergraduate. "Seeing what daily life looked like in a profession that interested me was very important," she says. "I externed with a doctor who had young children, and I still think that medicine is a great career for women who are committed to their families but also want to do meaningful work outside the home."
Mackie-Franklin, an allergy specialist who suffers from multiple allergies, offered herself as a practice subject for Silla's injection skills. "She gave me my spring shots–trees, grasses, and weeds in one arm; mold, dust, cats, and dogs in the other," Mackie-Franklin notes. "She did a great job!"
Information about applying to participate in the Extern Program in the 2012-13 academic year will be posted on the CDO website in the fall.
Externships are open to sophomores, juniors, and seniors.
— Ellie Rhymer '12
Comments Off

on Extern Program Gives Bryn Mawr Students a Chance to Experience the Work World During Spring Break