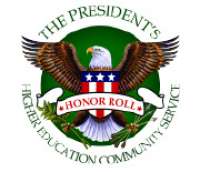 The Corporation of National and Community Service has honored Bryn Mawr College with a slot on the President's Higher Education Community Service Honor Roll with Distinction. This is the fourth year Bryn Mawr has been honored with this award.
The Community Service Honor Roll, launched in 2006, is the highest federal recognition a school can achieve for its commitment to service learning and civic engagement. The Honor Roll highlights higher education's part in creating meaningful contributions to the community and establishing a lifelong path to civic engagement for students.
"We are really delighted that Bryn Mawr has been recognized again for its commitment to civic engagement," says Ellie Esmond, co-director of the Civic Engagement Office and director of service and activism. "Being named to the honor roll with distinction is a reflection of the contributions of all members of this community, and illustrates how we live out our values through our work."
The award is based on a number of factors, including scope and innovation of service projects, percentage of student participation in service activities, incentives for service, and the extent to which the school offers academic service-learning courses. In addition, the impact of the service performed by the institution's faculty, staff, and students is weighed significantly when the applications are reviewed.
This year, Bryn Mawr's honor roll application highlighted three campus-community partnerships and three programs sponsored by the Civic Engagement Office. These projects and programs were selected by Civic Engagement Office staff as exemplary both in the measurable amount of service performed by the participants and by the impact they had on the communities served.
The partnerships and programs highlighted are:
Last year, 983 Bryn Mawr students participated in academic and non-academic community-service programs. Five hundred and fifty five students engaged in at least 20 hours of community service per academic term, and the total number of all community service hours engaged by Bryn Mawr students was 104,573 (including graduate students).
"While these numbers are impressive, the direct impact our faculty, staff, and students have had on the community is even more remarkable," says Nell Anderson, co-director of the Civic Engagement Office and director of Praxis and community partnership programs. "Through the programs and partnerships recognized this year we have affected the community in many tangible ways."
Examples of Bryn Mawr's tangible contributions to the community include:
A mural that was created in West Philadelphia in partnership with Parkway West students, the Mural Arts Program, local neighborhood residents, and Bryn Mawr faculty, staff, and students that celebrates pioneering women and the College's 125th anniversary.
Bryn Mawr students prepared 768 tax returns for Montgomery County residents, returning $1.14 million to the local community.
Bryn Mawr students and Norristown residents created a mural at ACLAMO in partnership with ACPPA and ACLAMO staff and clients.
Bryn Mawr faculty and staff donated 150 children's books to Gotwals Elementary School at the College's annual holiday party.
In addition to quantifiable outcomes, "the impact of these programs and partnerships can also be felt in a less measurable but still significant ways," adds Esmond.
"Through our continued collaboration, our relationships with our partner organizations deepens and trust in our shared commitment to the community grows, allowing the types of opportunities available for Bryn Mawr students to expand and enabling our partners to better fulfill their missions," says Esmond.
The Honor Roll is a program of the Corporation for National and Community Service, in collaboration with the Department of Education, the Department of Housing and Urban Development, Campus Compact, and the American Council of Education.
Comments Off

on Bryn Mawr Named to President's Higher Education Community Service Honor Roll with Distinction