Computer Science Professor Doug Blank and his colleague Jennifer Kay from Rowan University teamed up to coordinate a "Robot Circus" during the 43rd Association for
Computing Machinery Technical Symposium on Computer Science Education (SIGCSE), held February 29 – March 3 in Raleigh, N.C.
The SIGCSE Symposium is held yearly to address problems common among educators working to develop, implement and/or evaluate computing programs, curricula and
courses. Participants have opportunities to share new ideas for syllabi, laboratories and more.
The "Robot Circus" is part of a program to allow SIGCSE participants, most of whom are computer science professors or teachers, to get some hands-on experience
working with real robots.
"Our hope is to get some of the exciting, new technologies into the classroom. We believe that if students are engaged they will be more motivated to learn about the deep ideas in computer science," says Blank.
About 20 faculty, researchers, and students (known as ambassadors) from academia and industry brought a variety of different robots to the conference for the event.
Among the students attending the event were (from left) Cara Takemoto '12 and Caitlyn Clabaugh '13.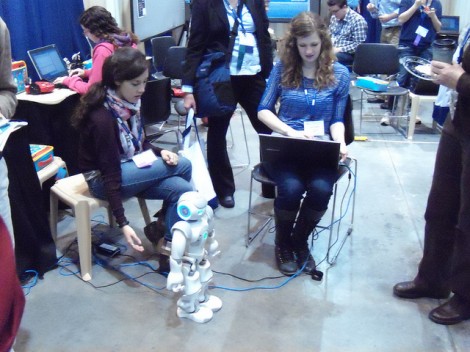 Comments Off

on Professor Doug Blank and Students Put on a "Robot Circus" at Conference for Computer Science Educators