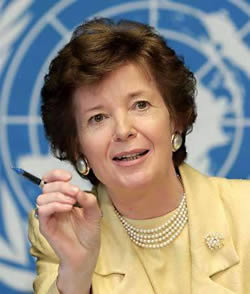 Mary Robinson, the first woman to serve as President of Ireland and former United Nations High Commissioner for Human Rights, will give the Commencement address to Bryn Mawr College's graduating class on Saturday, May 12, at 2 p.m. on Merion Green.
Robinson, who received the Presidential Medal of Freedom in July 2009, has spent most of her adult life advocating for human rights.
"As an advocate for the hungry and the hunted, the forgotten and the ignored, Mary Robinson has not only shone a light on human suffering, but illuminated a better future for our world," said President Barack Obama in presenting the award to Robinson.
"Working to make a meaningful contribution to the world is among the defining characteristics of  Bryn Mawr students," says Bryn Mawr President Jane McAuliffe. "I can't think of anyone who has given more of herself or is a better example of a truly global leader than President Robinson. We are honored that she will join us on this most special of occasions, when Bryn Mawr's graduating students begin their journey to becoming the leaders and change makers of the future."
Robinson currently serves as President of the Mary Robinson Foundation-Climate Justice (MRFCJ).
MRFCJ was formed in 2011 as a "centre for thought leadership, education and advocacy on the struggle to secure global justice for those many victims of climate change who are usually forgotten—the poor, the disempowered and the marginalised across the world."
As President of Ireland from 1990-97, Robinson enjoyed unprecedented approval ratings and turned what had been a low-profile political office into one with great influence on the promotion of human rights both in Ireland and globally.
During her presidency, she met with the Dalai Lama, reached out to representatives from the Gay and Lesbian Equality Network, and visited war-torn Rwanda. She signed into law a bill to fully liberalize the law on the availability of contraceptives and a law fully decriminalizing homosexuality.
As U.N. High Commissioner for Human Rights, Robinson traveled to Rwanda, South Africa, Colombia, and Cambodia, among other countries. In September 1998, she visited China—the first High Commissioner to do so—and signed an agreement with the government for the United Nations to undertake a wide-ranging technical-cooperation program to improve human rights in that country. Robinson also strengthened human rights monitoring in Kosovo, in the Federal Republic of Yugoslavia.
Robinson is a member of the Elders, former chair of the Council of Women World Leaders, and a member of the Club of Madrid.
She serves on several boards including the European Climate Foundation and the Mo Ibrahim Foundation, and she is a member of the Royal Irish Academy and the American Philosophical Society.
For more information on Commencement weekend, visit the Bryn Mawr College Commencement Web site.
Comments Off

on Mary Robinson, First Woman to Serve as President of Ireland, to Give Bryn Mawr College's 2012 Commencement Address