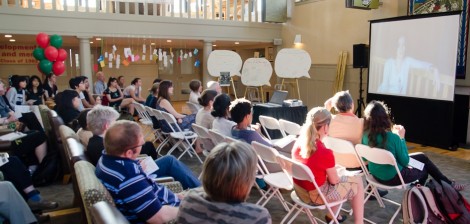 The main lounge of the Campus Center was filled on Monday night with a mix of students, staff, and faculty, all of whom came out to take part in the culminating event of the year-long "Class Dismissed? Furthering the Dialogue About Class" initiative.
The event showcased projects produced by Bryn Mawr community members and funded by the Diversity Council as an effort to highlight the goals at the heart of the "Class Dismissed?" initiative: fostering dialogue about, and increasing understanding of, the role of socioeconomic class on campus.
After a welcome from President Jane McAuliffe, the event got underway with a 15-minute video produced by  student Maruyi Lu '13 and staff members Melanie Bethea, Naté Hall, and Stephanie Wujcik, in which they interviewed members of the College's staff about their perceptions of social class at Bryn Mawr.
"You try not to have preconceived notions, but when we started this project I expected to hear a lot about the class divisions on campus," admitted Hall after the video played. "But I was actually pleasantly surprised by the lack of class issues."
"It's not that people are blind to the class differences that may exist, but—at least among the staff we talked to—there's a common goal of serving students that really brings people together and makes those differences much less important," said Wujcik.
The next presenter was Sally Heimann, a nurse practitioner at the the health center, who produced a series of audio recordings of community members talking about how class had impacted their health-care options at various points in their lives.
"Class is not just socio-economic status, race, education or income. It is, instead, some amalgam of factors that is very difficult to pinpoint. It changes over time and varies across populations/subgroups. Reading the book Class Matters? helped me broaden my thinking as I prepared for the interviews," wrote Heimann on the "Class Dismissed?" blog.
"In the end, however, all but one of the people who volunteered to tell their stories chose to do so because of having had the experience of being without health insurance. The stories they related were all based on issues of insurance and difficulties managing the health care system based on financial issues.
"And yet, all of the interviewees described an ability (either they themselves or their parents) to negotiate the health care system. Because of their educational backgrounds, their connections with people in power or some sense of entitlement, they were able, for the most part, to obtain the care they needed. I believe that ability distinguishes them from 'lower' class individuals. For those in the lowest classes, that access and wherewithal is simply missing," Heimann added.
The third group of presenters came from the "Benchmark" project, which consisted of a series of nine interviews with community members that took place on a "wheelbarrow bench" made by Kady Ruth Ashcraft '12 and her father.
"We wanted to find places where people would be comfortable, so my dad volunteered to make this bench that could go anywhere," explained Ashcraft. "We found out that while people are aware of class difference, class isn't generally what defines people or what divides them."
Joining Ashcarft on the project were Addie Ansell '12 and Jessica Wong '12.
The penultimate presentation was by Mae Carlson '12, Young Jong Cho '12, Tina Hu '12, Rebecca Sanders '12, and Priya Saxena '12, who spoke about the "Bedtime Stories" event held early this semester in connection with the "Class Dismissed?" project.
In discussing the event, and in a post on the "Class Dismissed?" blog, Carlson noted that discomfort around issues of class are common across classes.
"Those who have been more privileged often feel as though they can't share their experiences and that fact has stunted conversations about class on campus," said Carlson.
The final project featured was "Mapping Out Class." Faculty members Anne Dalke and Jody Cohen, assisted by TLI Student Consultants Sarah Jenness '13 and Jomaira Salas '12, designed two Balch Seminars using the lens of class for the project. They partnered in conversation with students from Parkway West High School, and also sponsored a large on-campus workshop around class issues.
At the showcase, four members of the course—Mfon-ido Akpan '15 , Ellen Li '15, Michaela Olson '15, and Samantha Saludades '15—shared some of what they had learned by inviting the audience to play a version of "21 questions." Participants had to guess the name of a famous person whose picture was taped to their back by asking yes-or-no questions of the audience, but instead of the traditional 21 questions, participants were limited in the number of questions they could ask by the amount of change they received. Amounts ranged from a penny to a quarter.
"The point is that in life not everyone starts out with the same set of privileges. Having the ability to ask fewer questions doesn't just limit you, it completely changes your approach," said Ellen Li, in explaining the exercise. The group next asked all participants to write down the three most important things in their lives; to remove first one, then another, from the list, and finally to ask themselves, "Would you give up the one thing remaining to have more questions?' How much would you be willing to sacrifice to receive an education?"
Spearheaded by the College's Diversity Leadership Group and Diversity Council, "Class Dismissed?" was conceived after a survey of the campus community found that class differences were more likely than any other aspect of social identity to inspire feelings of exclusion—and least likely to be addressed in community discussions.
Vanessa Christman, assistant dean and director of leadership and community development, who, along with Dean of Admissions Laurie Koehler, helped to guide the projects from their inception a year ago, shared her thoughts about the event afterwards.
"The projects were a terrific culmination of our year-long efforts. Their collaborative and interactive approaches allowed many community members to engage with the topic of socioeconomic class in meaningful and often personal ways. Speaking for the entire Diversity Leadership Group, we are delighted with everyone's efforts and appreciative of the institutional support for this initiative—including the commitment of President McAuliffe," said Christman.
Comments Off

on Project Spotlight Event Closes Year-Long "Class Dismissed?" Initiative